Corn flake cookies (biscuits) have graced the benches of family kitchens for many generations.  I am sure you can remember your mum or even your grandmother making them!
We went away for a short break a couple of weeks ago and the cereal of choice was corn flakes.  The returning packet had not very much in it so what else was I going to make but corn flake cookies.  Now it wouldn't be normal for me to make something without a little twist so I put my own stamp on this classic recipe and added some choc chips (because you can't go past choc chips) and a sprinkling of chia seeds (because I always have this in the cupboard).  I also replaced a portion of the flour with wholemeal self raising flour to boost the fibre content.
Even though I have made these additions, you can quiet happily leave them out and make the traditional corn flake cookie if you like.
INGREDIENTS
125gm Butter, softened
2/3 Cup Brown Sugar
1 Tsp Vanilla Essence
2 Eggs
1 Cup Self Raising Flour
3/4 Cup Wholemeal Self Raising Flour
1/2 Cup Choc Chips
2 Tbs Black Chia Seeds
1-2 Cups Corn flakes
LETS PUT IT ALL TOGETHER
1. Place the softened butter, sugar and vanilla essence into the bowl of a stand mixer or electric beater.  Beat until light and creamy.
2. Add the eggs one at a time and beat well after each addition.  Add the flours, choc chips and chia seeds and mix to combine.  You will now have your cookie dough that will be just a little bit sticky.
3. Place the corn flakes on a plate or in a large bowl.  Roll tablespoon size amounts of the dough and then roll in the corn flakes.  Place onto a lined baking tray and flatten slightly.  Repeat until all the mixture is used.
4. Bake in a 180 degree celcius oven for 12-15 minutes or until lightly golden.  They will still be slightly soft to touch.  Remove from the oven and allow to cool on the try for a couple of minutes before transferring to a cooling rack.  They will become firmer as they cool.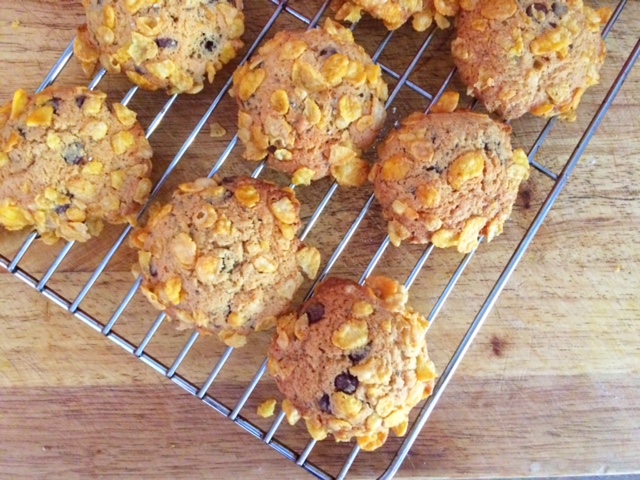 Makes 24
Store in an airtight container for up to 7 days.

(Visited 5,195 times, 16 visits today)