Spaghetti bolognese would have to be one of the most cooked meals in our house and many households around the world.  It is a family favourite because it is frugal, you can hide vegetables in it, it makes great leftovers and can be frozen once cooked.  When I normally cook bolognese it is simmering on the stove top for several hours.  Unfortunately I don't always have the time to have it simmering on the stove so that is when the slow cooker comes in handy.
It is as easy as place it all in the slow cooker, set, and come home to perfect bolognese sauce.  You could even cook the pasta in the morning, place it in the fridge and reheat at dinner time.
This is perfect for the nights that you are late home from work, after school activities or being out all day.
INGREDIENTS
500gm Lean Beef Mince
1 1/2 Cups Finely diced vegetables (I used carrot, celery, onion)
1 400gm Can Diced Tomatoes with garlic and herbs
1/3 Cup Chicken Stock
Salt and pepper to taste
LET'S PUT IT ALL TOGETHER
1. Place all the ingredients into the slow cooker and set to low for 8 hours.
That's it.  You will have perfect slow cooked bolognese sauce ready to spoon over pasta.
Serves 4-6
Perfect for leftovers. Store in an air tight container in the fridge and reheat before eating.
Freezer friendly.  Allow to cool and then spoon into zip lock bags and freezer for up to 3 months.  Defrost in the fridge and then reheat prior to serving. Any uneaten after reheating should be discarded.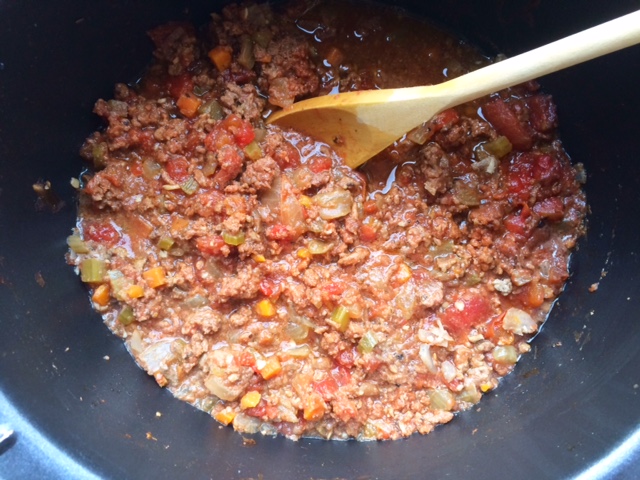 (Visited 3,320 times, 4 visits today)