Winter has made its appearance well and truly this week.  I have live on the sunny Gold Coast all my life and we complain that we are freezing simply if the temperature drops below 20 degree celcius.  We are built from warm sunny days here.  I'll happily embrace the cold weather though if it means I get to make warm delicious dinners that are also easy to make.
My slow cooker and I are best buddies during Winter.  It makes me look like I have been slaving in the kitchen all day when really I did about 5 minutes of prep in the morning to enjoy a warm dinner in the evening.  The slow cooker is my saviour when I'm home closer to 5pm and it is now just turning dark and the boys are screaming for dinner.
This beef and sweet potato stew is easy to put together and the use of sweet potato instead of normal potato adds a lovely sweet flavour, has a lower GI and is packed full of more nutrients we need as the weather cools down.
INGREDIENTS
1Kg Beef Chuck Steak, cut into cubes
1/4 Cup Plain Flour (you can swap for gluten free plain flour)
1/2 Tsp Salt
1/2 Tsp Ground Pepper
1 Onion, diced
1 Tbs Minced Garlic
1 Bay Leaf
1 Tsp Paprika
1 Tbs Worcestershire Sauce
1 Cup Stock (beef, chicken or vegetable)
1 Medium Sweet Potato, peeled and diced (approx 2 cups)
2 Carrots, peeled and diced
Serve with cooked rice or pasta.
LETS PUT IT ALL TOGETHER
1. In a frypan with a little olive oil fry off the onion and garlic. Add the beef and then sprinkle over the flour and salt and pepper.  Stir to coat and cook for 5 minutes or until the meat starts to brown.  Scrape into the slow cooker.  Alternatively my slow cooker has a saute function so I do it all in the slow cooker bowl.
2. Add the remaining ingredients, set to low and cook for 8-10 hours.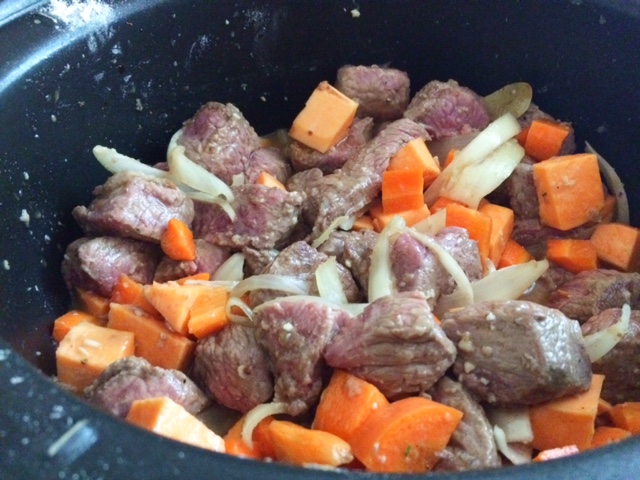 Serves 6-8
Perfect for leftovers: store in an airtight container in the fridge for up to 3 days.
Freezer friendly: allow to cool before placing into a freezer safe container.  Freezer for up to 3 months.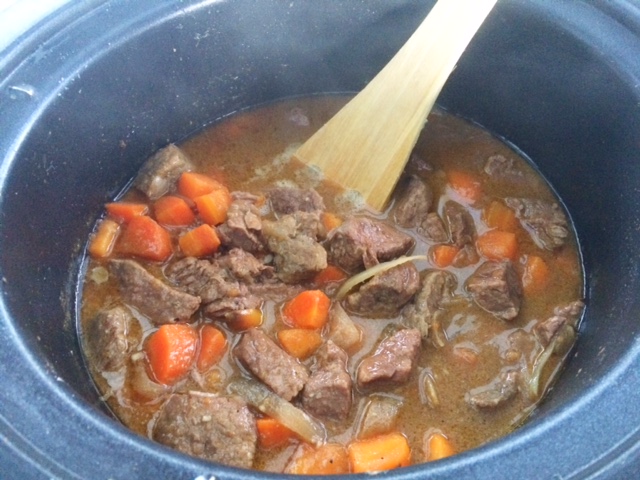 (Visited 13,658 times, 3 visits today)