This post is bought to you in conjunction with the celebration of the 100th anniversary of Pyrex.  Pyrex has graced the cupboards and benches of kitchens for 100 years, it is a favorite with experienced cooks and family cooks alike.
"100 years ago the team behind the Pyrex brand created the glass baking category and we believe the next generation of family cooks will continue to use Pyrex glass products for 100 years to come. We're very proud to have Pyrex glass products in the World Kitchen family and will continue its legacy".
In the early 1900s Corning Glass Works, the inventors of Pyrex glass bakeware, originally used the strengthened glass for lantern globes on railways. The progression from railways to kitchens came about when the wife of one of the company's employees used a piece of the same heat-resistant glass to bake a cake. After noting several remarkable findings including a shorter cooking time and more uniform baking, Corning Glass Works set about perfecting this new invention and an iconic brand was born.
I had a little look in my mums kitchen cupboards and found the iconic measuring jug and baking dish that she has made many lasagna's in.  She still uses these on a regular rotation in her kitchen.  I myself already had the pie plate which I bought when we first set up our family home and is used almost weekly.  I'm sure you will find a piece or too in your mums kitchen and yours!
I have been making this classic chicken, mushroom and potato pie on regular basis as we all enjoy eating it.  The boys love the crunchy, flaky pastry and with the help of a little homemade tomato sauce they enjoy the filling too.  It is easy to make and the potato naturally helps with the thickening so no fussing around with cornflour to get the pie filling to thicken.  Basic family friendly ingredients come together to create a classic pie that you will be adding to your family favourites in no time.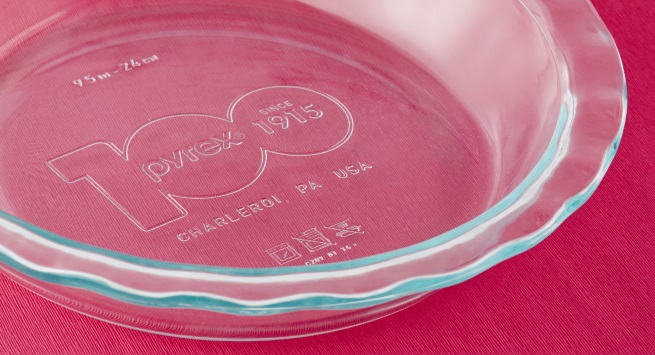 INGREDIENTS
500gm Chicken Thighs, cut into cubes
1 Onion, diced
1 Tbs Minced Garlic
12 Button Mushrooms, sliced finely
2 Medium Potatoes, peeled and diced
1 Tsp Fresh Thyme (dried will work as well)
250ml Chicken Stock
Salt and pepper to taste
1 Egg, whisked
Sesame Seeds
Olive Oil
2 Sheets Frozen Shortcrust Pastry , defrosted
2 Sheets Frozen Puff Pastry, defrosted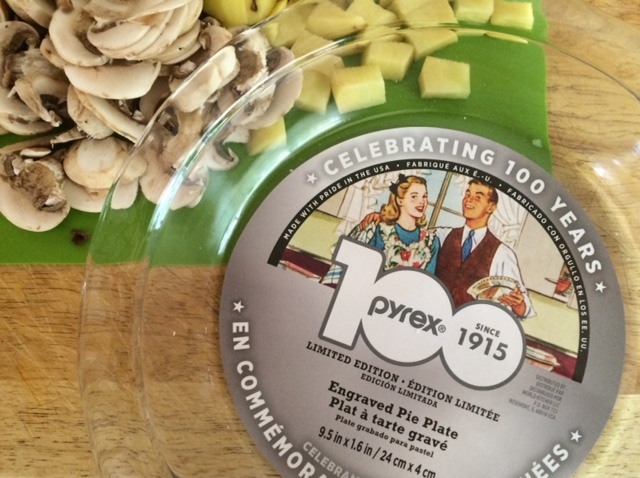 LETS PUT IT ALL TOGETHER
1. Place a large pot over a medium high heat and add the oil, onion and garlic.  Cook until the onion is soften making sure not to brown it.
2. Add the mushrooms and cook for a further minute followed by the chicken and cook for 3 minutes to just brown the outside lightly.
3. Add the potatoes, thyme, chicken stock and salt and pepper to taste, stir through to combine.  Place the lid on the pot and cook on a simmer for 15 minutes.  Remove the lid and give the mix a stir, cook for a further 10 minutes with the lid off.  You want the mixture to thicken and the potatoes to soften.  Once this has happened remove from the heat and allow to cool slightly.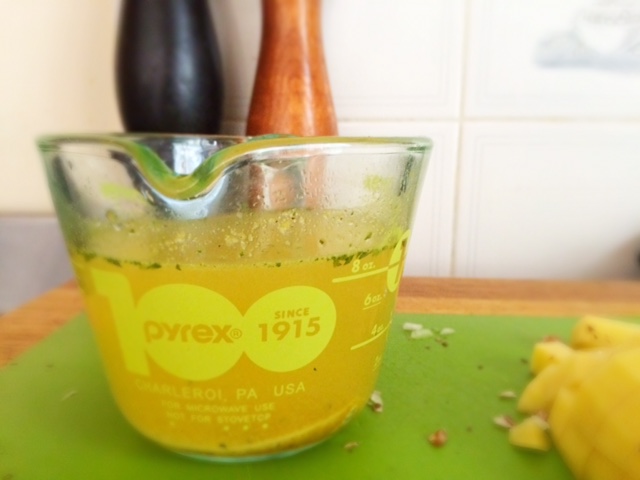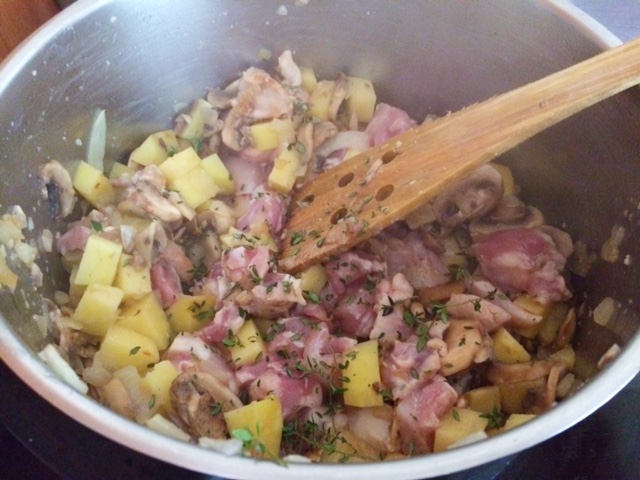 4. Spray the Pyrex Pie dish with cooking spray and then line the base with the shortcrust pastry.  Add the filing and then the puff pastry.  Seal the edges with a pinch and roll motion from your hands.  Brush the top with the whisked egg and add a sprinkling of sesame seeds.
* I cut heart shapes out with a cookie cutter from the excess puff pastry and placed these on top before brushing with egg.
5. Bake in a 200 degree celicus oven for 20 minutes or until the pastry is golden and puffed up.
Serves 4 – 6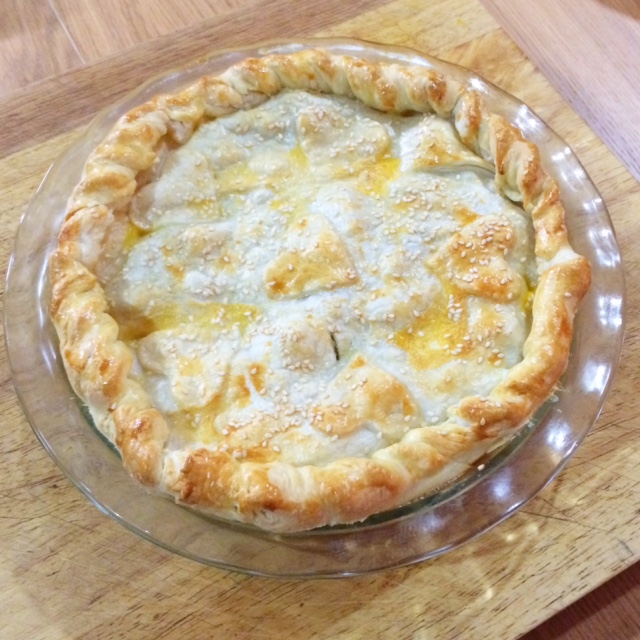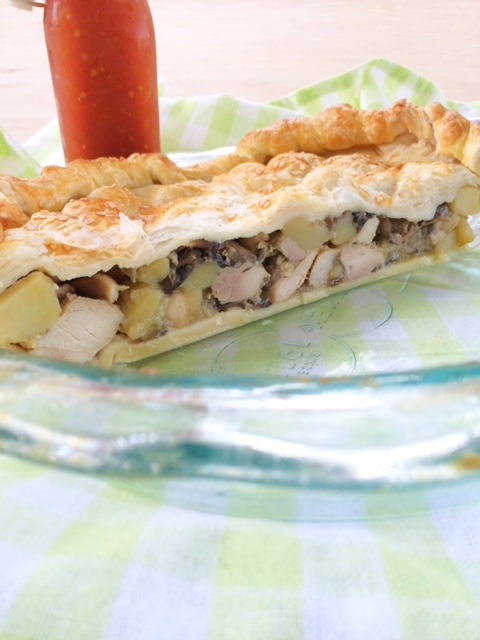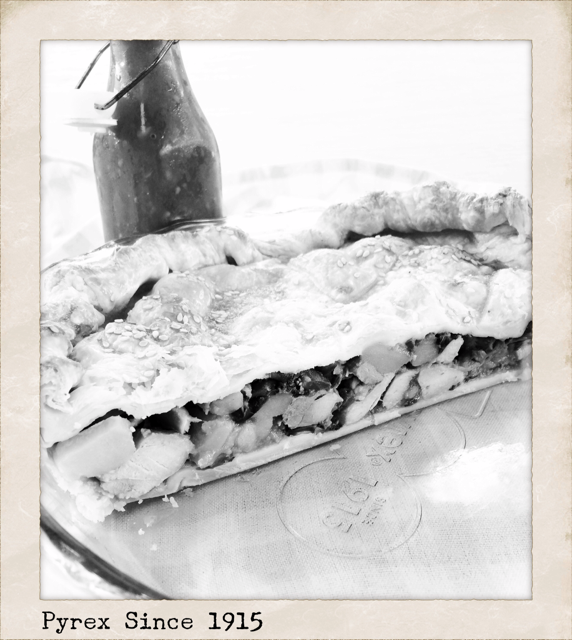 I had a little fun with the photo.  If people photographed their food 100 years ago like we do today, my pie would look something like this!
For more information on Pyrex and recipes visit their website and Facebook page.
Pyrex has released a limited edition range to celebrate the anniversary. The range includes the limited edition pie plate and jug that I have used in this recipe as well as the colourful containers shown below.  They are available in David Jones, Myer, Big W, Harris Scarfe and selected independent retailers from April 2015 with prices ranging from $9.95 to $16.95 per piece.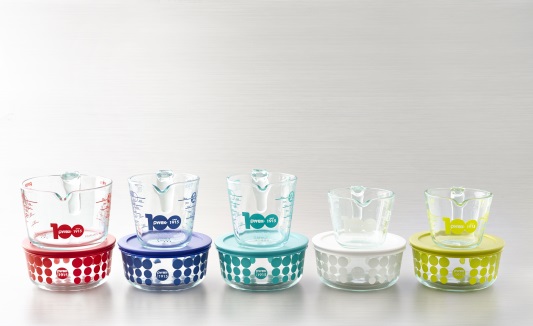 GIVEAWAY
WIN 1 OF 3 PYREX PACKS
1st place prize pack – RRP: $56.75
100 year pie plate
100 year 4 cup storage
100 year 1 cup measuring jug
Small spatula
Small silicone whisk
2nd and 3rd place prize pack – RRP: $32.85

Originals pie plate
4 cup storage
1 cup measuring jug
To enter simply tell me in the comments what your families favourite pie is?
Terms & Conditions: This is a game of skill.  We are looking for creative answers to the entry question. This promotion is in no way sponsored, endorsed or administered by, or associated with, Facebook. We hereby release Facebook of any liability. Winner(s) will be contacted by email 48 hours after the giveaway ends. You then have 48 hours to reply by email with your postal address otherwise the prize will be redrawn. If you have any additional questions – feel free to send us an email!  Open to Australian Postal Addresses only. Starts 6am 8th June 2015 and Closes 11pm 15th June 2015.
This is a sponsored post for Pyrex.  Recipe and images plus opinions expressed are my own.

(Visited 1,914 times, 8 visits today)