This is a very tasty quick and easy meal perfect for a work night. 15 minutes to prepare and 20 minutes in the oven and your done.
INGREDIENTS
6 Good quality sausages, I like the flavoured varieties such as herb and garlic or a skinless sausage is perfect as well
1 Jar of Roasted Vegetable Pasta sauce or 500ml of homemade hidden vege tomato sauce
1/2 Large packet of Penne pasta dry
1 Cup Frozen Peas
1 Cup Grated Cheese
White Sauce
50gm Butter
2 Tbs Plain Flour
1-2 Cups Milk
LET'S PUT IT ALTOGETHER
1. Put the water for the pasta on to boil, you can add the pasta before it boils as this dish doesn't require perfect pasta in a sense and it speeds up the cooking time. Preheat the oven to 180 degrees.
2. If your sausages have skin on them simply pull small chunks of sausage meat out of the skin an d place into a lightly oiled pan over a medium heat, repeat for all 6 sausages.
3. While the pasta and sausages are cooking, place the butter for the white sauce in a small saucepan.
4. Once the butter is melted turn down the heat, add the flour and stir until the butter flour mix starts to bubble.
5. Add the milk whisking as you do to avoid lumps. You want the consistency to but thick but still runny. Once this is achieved from from the heat.
6. Add the peas to the cooking pasta.
7. Add the pasta sauce to the sausages and stir through.
8. Add 1/2 the white sauce to the sausages and pasta stir, mix through and turn off the heat.
9. The pasta should be cooked by now, drain excess water and return the pasta and peas to the pot they were cooked it in.
10. Add the sausage sauce mix to the pasta and peas and mix to combine,
11. Place into a large lined baking dish and top with the remaining white sauce and then the grated cheese.
12. Place in the oven for 20 minutes or until the cheese starts to turn golden.
Enjoy on its own or with a salad.
Serves 4 – 6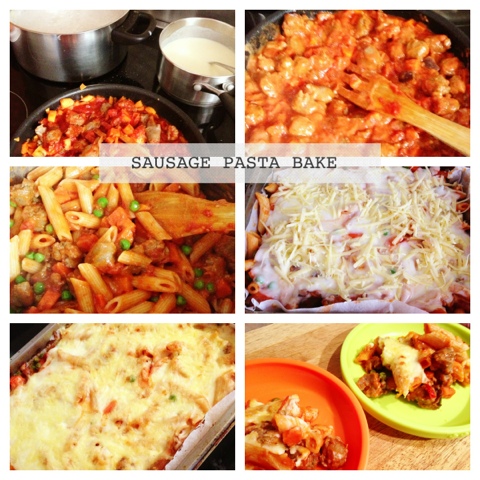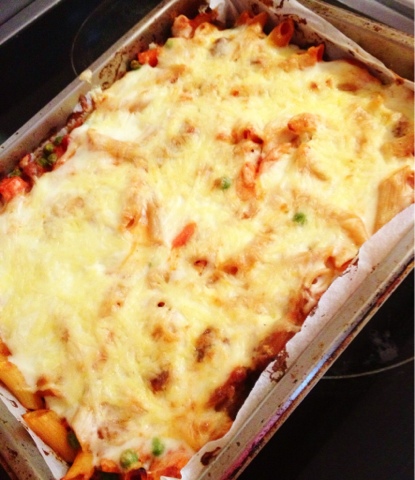 (Visited 1,190 times, 4 visits today)