Wraps are such a great way to hold healthy fillings and are super easy to eat. They are perfect for the kids lunch boxes as they are a great size. Perfect for little and big hands alike.

This super easy recipe by Matt Golinski made for D'Orsogna Deli Fresh is sure to be a lunchbox pleaser. The mixture of sweetness from the honey ham and apples and the creamy mayo brining it together, makes this wrap not only perfect for the lunchbox, but a welcomed work lunch as well.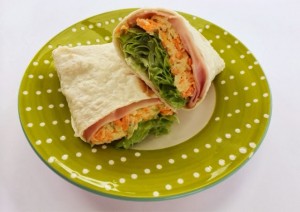 Plated up to eat at home

This is what you need to make them:

INGREDIENTS
100g D'Orsogna Deli Fresh Honey Ham

2 Granny Smith Apples, peeled and shredded

2 Carrots, peeled and shredded

2 sticks Celery, finely sliced

½ cup Mayonnaise

4 fresh Tortilla Wraps

200g mixed Lettuce
COOKING INSTRUCTIONS
1. Mix together the apple, carrot, celery and mayonnaise.
2. Lay out the tortillas and add the Honey Ham, slaw and lettuce across the middle of each.
3. Roll up and serve.
Makes 4
Click here to view the recipe on the Lunchtime Legend website.
Take a look at the video showing you exactly what to do, it's that easy, older children could easily make this for their own lunch.
What I did differently to make them super quick to make: I used the food processor to grate the apple, carrot and celery, mixed in the mayo and my slaw was done. You could make this the night before and keep in the fridge for up to 3 days.
Tip: Unused tortilla wraps can be stored in the freezer. When ready to use, remove single wraps from the freezer by prying apart with a knife, allow to defrost for a minute or two then fill and wrap.
How to pack in the lunchbox: Simply wrap the wrap in cling wrap, sealing up both edges. Cut in half, place each half side by side and wrap completely with cling wrap.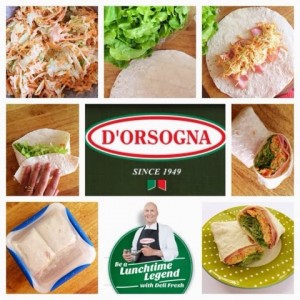 Step By Step
If you liked the sound of this fresh and healthy wrap, I have a $30 gift card for Woolworths to giveaway thanks to D'Orsogna Deli Fresh so you can make these at home and also pick up some other D'Orsogna Deli Fresh meats from their range.
GIVEAWAY: I have a $30 Woolworths gift card to giveaway to one lucky reader. All you have to do is use the rafflecopter widget below to enter. Open to AUSTRALIAN RESIDENTS ONLY.
Disclaimer: This is a sponsored post, I was provided payment as well as the ingredients to make the recipe. All opinions expressed and photos are my own.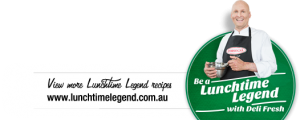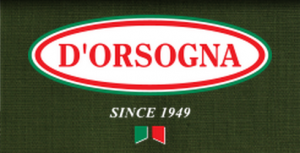 The D'Orsogna Deli Fresh range is available exclusively from Woolworths.

(Visited 596 times, 4 visits today)