This week I made this 2 Minute Double Smoked Ham, Mushroom and Parmesan Omelette by Matt Golinski for D'Orsogna Deli Fresh. The first thing I noticed when I ate this was that the flavour of the Double Smoked Ham was really the standout of the meal, it was my first time having Double Smoked Ham and I really enjoyed it.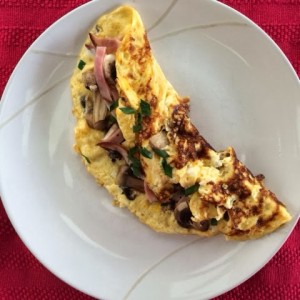 The Omelette was nice and easy to make and the only part that I found a little tricky was doing the half flip. The combination of the Double Smoked Ham, Mushroom and Parmesan are a real winner.
I had to think outside the box to make this one lunchbox friendly, but I did it and you will see this recommendation further down to page.
INGREDIENTS
100g D'Orsogna Deli Fresh Double Smoked Ham, shredded

8 Eggs

200ml Milk

100g Button Mushrooms, finely sliced

80g Grated Parmesan

2 tbs Chopped Chives

2 tbs Olive Oil

Salt and Pepper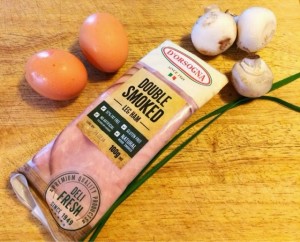 COOKING INSTRUCTIONS
Whisk together the eggs and milk.

Heat a small non stick skillet over a medium heat.

Add half a tablespoon of olive oil, and pour in ¼ of the egg mixture.

Give the bottom of the pan a gentle stir with the back of a fork.

Over half of the omelette, sprinkle ¼ of the ham, mushrooms, cheese and chives, and season with salt and pepper.
6. Leave the omelette for about a minute to set, then using a plastic spatula, flip the omelette in half to cover the fillings.
7. Turn out onto a warm plate and repeat for the other 3 omelettes.
Check out the 2 minute video here to see how easy they are to make:
Click
here
to view the recipe on the Lunchtime Legend page.
Tip for packing for the lunchbox: To make this lunchbox friendly simply place half and omelette on a wrap and wrap it up. Wrap with baking paper to help stop it from going soggy cut and cling wrap. Place into a container and then into a lunch cooler with an ice pack.
If you would like to make this quick, easy and delicious omelette at home, I have a $30 gift card for Woolworths to giveaway thanks to D'Orsogna Deli Fresh so you can make them at home and also pick up some other D'Orsogna Deli Fresh meats from their range.
GIVEAWAY: I have a $30 Woolworths gift card to giveaway to one lucky reader. All you have to do is use the rafflecopter widget below to enter. OPEN TO AUSTRALIAN RESIDENTS ONLY.
Disclaimer: This is a sponsored post, I was provided payment as well as the ingredients to make the recipe. All opinions expressed are my own.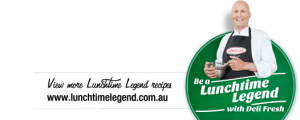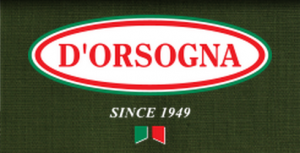 (Visited 454 times, 5 visits today)