You are only three ingredients away from the easiest desserts you will ever make.  If you love nutella and cheesecake then of course you will love this nutella cheesecake.
Grab a jar of nutella, cream cheese and some choc ripple biscuits and your ready to go.  I served this as a desert on Easter Sunday hence why there are easter eggs on top.  You can decorate with chocolate like I have but it would also be perfect with fresh berries.
This recipe doesn't require any gelatine as the nutella sets the cheesecake.  Have you even put the jar of nutella in the fridge and noticed that it goes hard?
INGREDIENTS
400gm Jar Nutella (or another choc hazelnut spread)
500gm Light Cream Cheese
1 Packet Chocolate Ripple Biscuits (or another plain chocolate biscuit)
100gm Butter, melted
Chocolate or fresh berries to serve.
LETS PUT IT ALL TOGETHER
1. Place the biscuits into a food processor with the sharp blade and process until they form even shaped crumbs. If you don't have a food processor place the biscuits into a plastic bag and hit with a rolling pin to break the biscuits up.
2. Place the biscuit crumb into a bowl along with the melted butter.  Mix until the butter is evenly combined. Into a lined springform or push pan add the biscuit crumb and push down with your hands to form a base and sides.  Place in the fridge while you prepare the filling.
3. Into a food processor add the cream cheese and nutella.  Process until smooth and evenly combined. Alternatively you can mix with a spoon until it resembles an even chocolate colour.
4. Take the pan with the base out of the fridge and spoon in the filling.  Spread out and level off.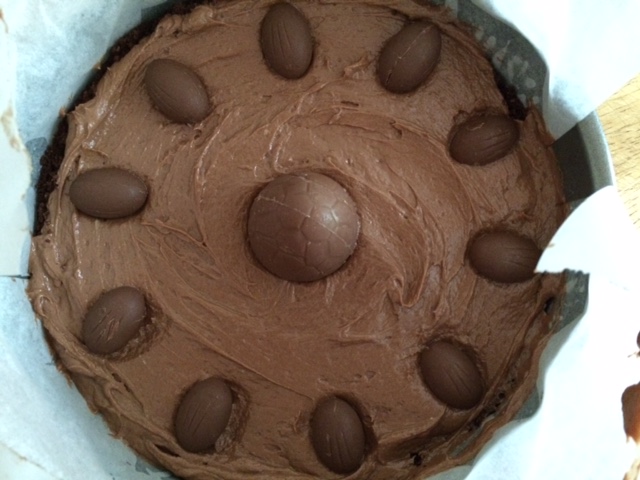 5. Leave in the fridge for a minimum of 4 hours.
Decorate before serving.
Serves 8-10 (depending on how big you cut the slices)
Store in the fridge in an airtight container for up to 7 days.

(Visited 3,436 times, 5 visits today)