The colours of Christmas inspired this dish and it is perfect as a side dish to a butterfly marinated chicken on the BBQ and also perfect as lunch the next day.
INGREDIENTS
1 Large Mug of dry Couscous
1 Tbs Vegeta Gourmet Stock powder ( vegetable and chicken stock will do too)
1 Tbs Minced Garlic
1/2 Can Chickpeas
1 Large Tomato, cubed
1 Spring Onion stalk, sliced finely
50 grams crumbled feta
1 Cup Frozen Peas
Handful basil leaves torn apart
Olive Oil
Salt and pepper to taste
LET'S PUT IT ALTOGETHER
1. In a medium sauce pan place the couscous, stock powder, minced garlic along with two mugs of boiling water. Place the lid on top and set aside to allow the couscous to absorb the water and double in size.
2. Meanwhile, prepare your tomato, feta, spring onion and basil and place aside.
3. One the couscous has had time to double in size (about 5 minutes), using a fork fluff it up.
4. Add a swirl of olive oil and stir through with the fork, and then add the frozen peas and replace the lid to allow the peas to heat through.
5. Turn out onto a large serving dish and then layer on the chickpeas, tomato, spring onion, basil and feta. Season with salt and pepper.
Enjoy with a butterflied chicken or other hot/cold meat.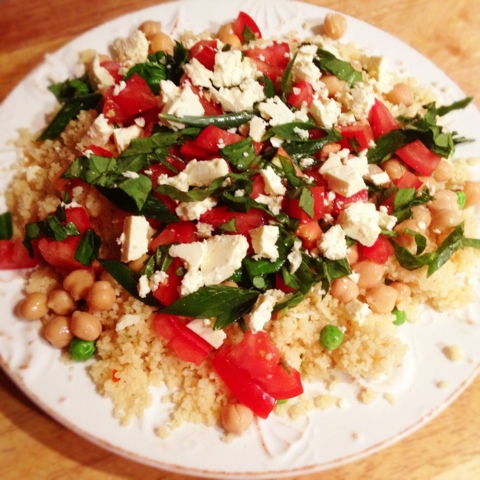 (Visited 344 times, 5 visits today)