'Cooking For Busy Mums' is excited to announce that I will be working with Mission Foods from now until the end of the year, in our new partnership. The partnership will see me bring you new competitions, and many fantastic new innovative and inspiring recipes, that will feature on the blog in the coming months.
Mission Foods' humble beginnings started in 1959 in Monterrey, Mexico; and they have continued their commitment to quality, and of course taste since then.
Mission is one of the world's largest tortilla, flatbread, and corn flour producers in the world, and is proud to be an Australian manufacturer. You know they make wraps which are perfect for lunches, but did you also realise they make a range of flatbreads which celebrate global cuisines? From Lebanese and Pit breads, to Pizzas, Indian Naans, and Chapattis.
I couldn't be happier about this, as I have many fond memories of eating Mexican. My parents used to take me to a local Mexican restaurant, where I can remember eating bean dip with corn chips. To this day, this still remains one of my favourite Mexican dishes, and I can't wait to start creating Mexican meals at home for my family.
So much variety, and so many options for creating healthy, tasty, and fast meals for your family.
If you've got the taste for some Mexican tonight, then jump over to their website where there are already many recipes waiting for you to try.
The Mission Foods Pinterest page is bursting with inspiration, and don't forget to give their Facebook page a Like to stay up to date with new promotions, and recipes!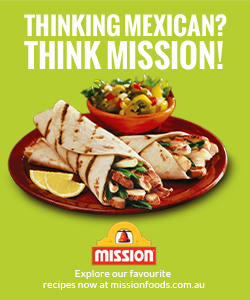 (Visited 283 times, 1 visits today)