Crackers are the perfect for dipping and snacking on, but what I don't like is how many numbers go into to make the store bought ones.  These crackers are really easy to make and you customise them to suit your taste. Think rosemary and sea salt, taco flavour, sesame, greek seasoned, the possibilities are endless.
The ingredients are really basic and bet you already have them in your pantry? So grab your rolling pin and your favourite flavours and get cracking.
INGREDIENTS
2 1/2 Cups Plain Flour
1 Tsp Salt
2 Tsp Sugar
1 Cup Water
1/4 Cup Olive Oil (if you don't like the flavour of olive oil use the variety that states light on the lable which means it is light in flavour)
LETS PUT IT ALL TOGETHER
1. In a large mixing bowl place all the dry ingredients and mix well.  Add the water and oil and using a knife mix them through the dry mix.  Continue mixing to form a dough.  You want it to soft but not overly sticky.  If it is too sticky add a little more flour, if too dry add a little more water. Work it with your hands for a minute.  Divide into 2.
2. Lightly dust your bench with some extra flour and then take one half of the dough and begin to roll out.  You are going to have to work the dough a bit with the rolling pin to get it rolled out thin.  You want it to be about 1 mm in thickness.  Once rolled out cut your crackers with your cookie cutter of choice or simply cut into strips with a knife. Repeat with the second half of the dough.
3. Place on to a lined baking tray. Brush the tops with a little water and sprinkle on your seasonings.  Bake in a 180 degree celcius oven for 10 minutes or until lightly golden.  Transfer to a cooling rack before storing in an airtight container.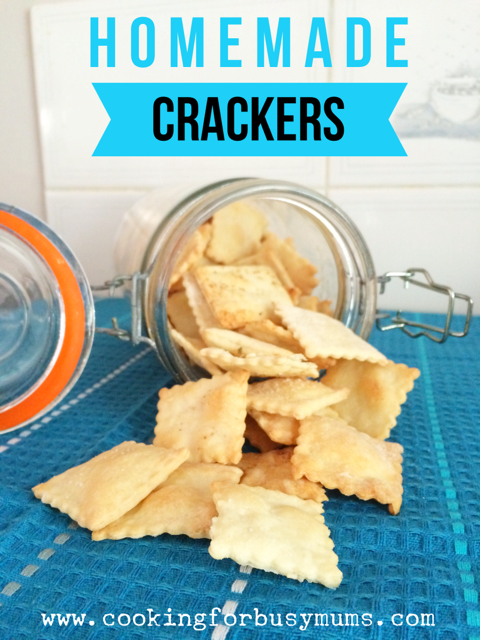 (Visited 5,220 times, 2 visits today)