Steggles wanted me to get creative in the kitchen by using there Turkey Shortcuts range.
They delivered me a great selection of Turkey mince, Turkey Thigh Roasts, Chickens and Chicken Mince.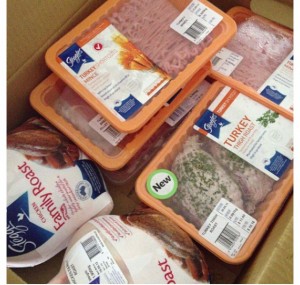 Turkey Supplies
I decided I would be creative with their Turkey mince as it is sometimes a mince that is by passed by many but it is absolutely a beautiful meat that we have enjoyed in the past.
Meatloaf is perceived as a rather boring unimpressive meal, it's generally considered a cheap slap together dish that won't have people swooning all over it.
Well, this is a thing of the past. I may of made the most swoon worthy Meatloaf around.
It combines Turkey Mince with Beef mince to add some lightness and contrast flavour to what is normally a heavy meaty dish.
Why Turkey Mince you ask?
Turkey mince was found to be lower in kilojoules, total fat, and saturated fatty acids than other mince products compared in the report. Products analysed included lamb mince, extra lean beef mince and lean veal mince. The report identified the nutrients found in turkey are central to an ongoing healthy diet and lifestyle. Being high in protein, turkey is a valuable food to include in the diets of all Australians with a 100g serving providing more than a third of an adults daily protein requirements (more for children). Source:
http://www.steggles.com.au/news/45/99/Turkey-comes-up-trumps-in-nutritional-report
This beauty of a meatloaf packs in the vegetables and lots of natural flavours as well.
INGREDIENTS
2 Tablespoons Fresh Parsley
1 Carrot Grated, squeezed to remove excess liquid
1 Zucchini Grated, squeezed to remove excess liquid
To serve: mashed potato, side of steamed carrots
LET'S PUT IT ALTOGETHER
1. In a large bowl placed all of the ingredients, leaving the boiled eggs out.
2. Mix well with your hands, really working it to get a good even distribution of everything and to form a well form ball.
3. In a loaf pan place half the mixture. Followed by the three boiled eggs layer on top through the centre. Finish off with the remaining mixture.
4. Bake in a 180 degree Celsius oven for approx 45 minutes.
While it is baking prepare your mash potato and steamed carrots.
Serve as suggested in the photo to make the meatloaf extra special and you will have the whole family swooning over it.
Great for lunch the next day
Looking for some more Turkey Inspiration….here are some of my other Turkey recipes..

.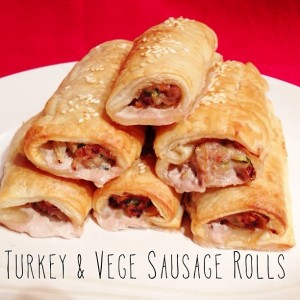 Turkey & Lentil Spaghetti Bolognese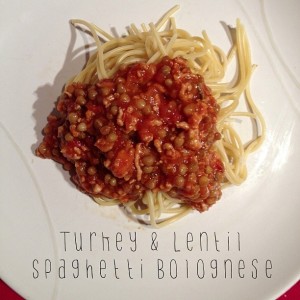 Want to win yourself a $50 gift card from Steggles so you can buy your own Turkey meat and get experimenting?
Simply enter below and comment what is your favourite Turkey dish.
Note: I was provided with these Turkey and Chicken products from Steggles to create meals for my family and to share with you.



(Visited 439 times, 4 visits today)