Who said a sausage roll only has to made with beef?
This recipe breaks the rules and uses lean tasty Turkey Mince with my secret ingredient to make sure they are moist and sweet.
Both the boys loved these sausage rolls and I was happy that they did, with hidden vegetables it makes a great quick all round meal.
You can double this mixture if you want leftovers, but I challenged myself to make two meals from 500gm of Turkey mince. The other meal was
Turkey & Lentil Spaghetti Bolognese
can be found here.
INGREDIENTS
250gm Turkey Mince
1/2 Carrot, crated
1/2 Zucchini, grated
1/2 Onion, diced
2 Cloves Garlic, finely chopped
1/2 Cup Cranberry Sauce (this is the secret ingredient)
Salt & Pepper to taste
Optional: fresh parsley chopped finely
2 Sheets of frozen puff pastry
LET'S PUT IT ALTOGETHER
1. In a large bowl place all the ingredients. Mix and squish with you hands until all ingredients are well combined and the mince has formed one.
2. Cut the defrosted puff pastry into 4 squares. Lay a golf ball size amount of the mix in the middle and roll up. Repeat until all the mixture is used.
3. Place onto a lined baking tray and spray with cooking oil.
4. Bake in a 200 degree Celcius oven for 20 minutes or until the pastry is golden and puffed.
Enjoy with a side of salad or on there own.
Makes: 6-8
Store in the fridge in a sealed container for up to 3 days.
Great for lunch the next day.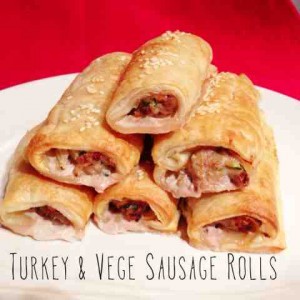 Steggles provided me with the Turkey Mince for this dish. More nutritional information can be found here: http://www.steggles.com.au/turkey/turkey-nutrition

(Visited 3,249 times, 10 visits today)