Spaghetti bolognese would have to be a universal winner for many households. It's easy to prepare, economical, you pack in some vegetables and what kid doesn't love slurping up the spaghetti, right?
Traditionally the bolognese sauce has been made with minced beef (I couldn't find a specific reason why it was always done with beef, if you know please share), however I think as a society we are learning to take risks and experiment with more healthier options.
Turkey is one of those healthier options, I absolutely love Turkey mince it is lean, high in protein, and high in vitamin B12 making it a perfect alternative to other minced meats.
Since we are Talking Turkey this week I decided to whip up my "spag bol" that the boys love using Turkey Mince. The more delicate less 'meater' flavour of the Turkey Mince really lets the flavour of all the other ingredients come through creating a wholesome meal the whole family enjoys.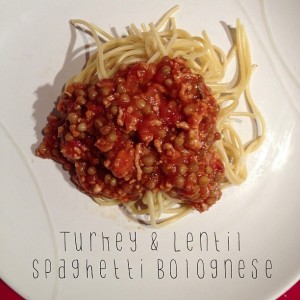 Double the ingredients if you are wanting leftovers for the coming nights or to freeze.
INGREDIENTS
250gm Turkey Mince
1/2 Zucchini, grated
1/2 Carrot, grated
1/2 Onion, diced
2 Garlic Cloves, sliced finely
1 400ml Can Condensed Tomato Soup
250ml Chicken Stock
1 400gm Can Lentils, drained and rinsed
Dry Spaghetti, to cook
Olive Oil
Salt & Pepper to taste
Fresh herbs of choice – Thyme or Parsley are perfect
LET'S PUT IT ALTOGETHER
1. In a large pot over a medium to high heat add the onion and garlic. Cook stirring occasionally until the onion softens.
2. Add the Turkey Mince and cook until it starts to brown.
3. Add the zucchini and carrot and mix well, cook for a further 2 minutes.
4. Add the tomato soup and chicken stock. Stir through, bring to the boil and then reduce to a simmer (uncovered) for 1-2 hours or until the mix has started to thicken slightly.
5. Add the lentils 30 minutes before finished cooking. The longer they are in, the more they will break down and become less noticable.
6. Season with salt, pepper and fresh herbs.
Serve with cooked spaghetti
Freezer Friendly: Store in a sealed container and defrost when needed. Store in individual serves with the pasta – perfect for when you need a quick meal to feed the hungry little ones in the house.
Steggles provided me with the Turkey Mince for this dish. More nutritional information can be found here: http://www.steggles.com.au/turkey/turkey-nutrition

(Visited 1,621 times, 14 visits today)