We had family and friends over for a BBQ on the weekend and one of the side dishes was potato bake.  I love the simplicity of a potato bake, which makes it perfect for entertaining.  I prepped the dish to the step prior to placing in the oven (so all the work was done before the guests arrived).  It was then simply a matter of placing into the oven the right amount of tie prior to dinner being cooked.
To give this potato bake some drool worthy flavour and aroma I used a Garlic and Herb seasoning and it was all kinds of delicious.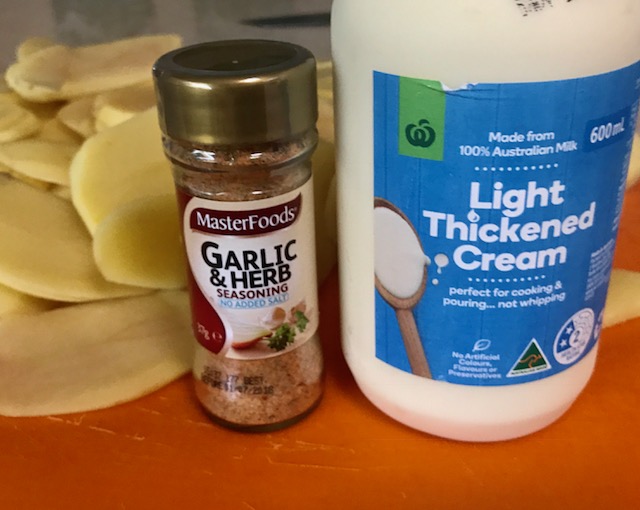 INGREDIENTS
2kg Brushed Potatoes, washed, peeled and sliced (2mm thick)
600ml Light Thickened Cream
2 Tbs Garlic and Herb Seasoning (plus extra for sprinkling)
1 Tsp Salt
2 Spring Onion Stalks, white part sliced
1/2 Cup Tasty Cheese, grated
1/2 Cup Mozzarella Cheese, grated
LET'S PUT IT ALL TOGETHER
Slice the potatoes into 2mm slices.
In a large bowl mix together the cream, garlic and herb seasoning and salt.
Add the potatoes and sliced spring onions.  Mix to well coat everything.
Pour into a large oven proof baking dish and flatten down with the back of a large spoon.
Sprinkle on the cheese and extra garlic and herb seasoning, then cover the dish with aluminum foil.
Place into a preheated 180 degree Celsius oven to bake for 1.5 hours.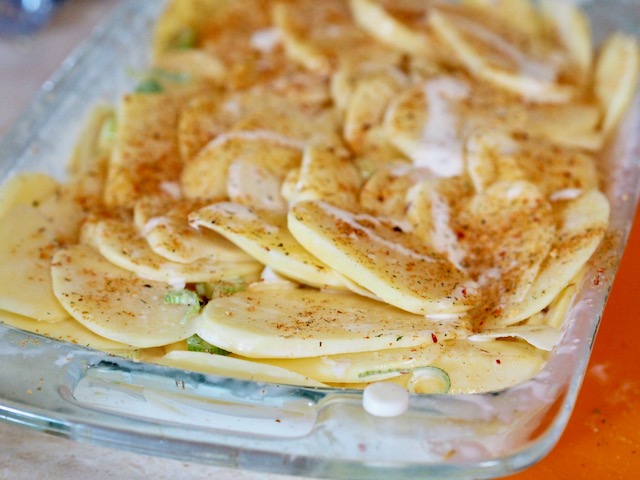 The cooking time on this dish is long as it is a mega serve of potato bake.  You could opt to freeze half after cooking or have for leftovers in the following nights.
Cook time can also be reduced if you boil the potatoes (whole) for about 20 minutes prior so they are softened a little more.
Serves 12+ as a side dish.

(Visited 10,512 times, 41 visits today)