For well over year Mr turning 4 (who is now 4) has been obsessed with dinosaurs therefore the theme of his 4th birthday party was a given and what a great theme it was to work with. This was the first year we had a few friends from Kindy come to our house to celebrate his birthday so I did a few extra special things to make the day enjoyable.
Here is a run down of the themed supplies, food, games and cake. If you have any questions please leave me a comment and I will answer them for you.
THEMED SUPPLIES
You can easily find a lot of the dinosaur supplies in your local $1 shop and I also found Kmart to stock a great range.
Dino Party themed invitations, cups, plates, napkins, party bags – Kmart – Invitations 50c for 8. 8 pack table setting $5.
Tubes of tiny dinosaurs – $3 each
Binoculars for searching for the dinosaurs in the Dino dig – $2 each
Dinosaur stickers – $2 for a pack of 180
Wooden dinosaur bones – The Reject Shop – $2
Inflatable dinosaur – EBay – $8 posted
Dinosaur Tattoos – EBay – $6 for 36
THEMED FOOD
I did a couple of Dino themed sweets and a carved dinosaur head from a watermelon. Incorporating a few themed food items with party favourites is a great way to follow the theme through without making things that may go to waste or cost a lot.
Chocolate Crackles with Dino sprinkles (from Coles in the baking isle)- No Copha –
4Ingredients recipe
Carved Dinosaur Head from a watermelon. Here is the
link
to the step by step guide I used.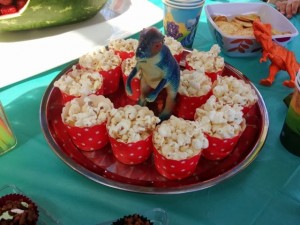 Sweet & Salty Popcorn
Hot Food – I served Hawaiian and Ham & Cheese pizza at the birthday boys request. I purchased the bases and the day before topped with pizza sauce, ham, cheese and pineapple. Wrapped in cling wrap and left in the fridge. They were then ready to go in the oven on the party day.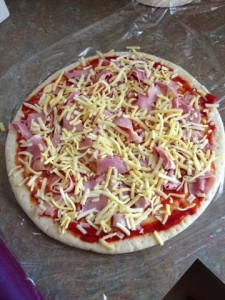 Pre-making Pizza's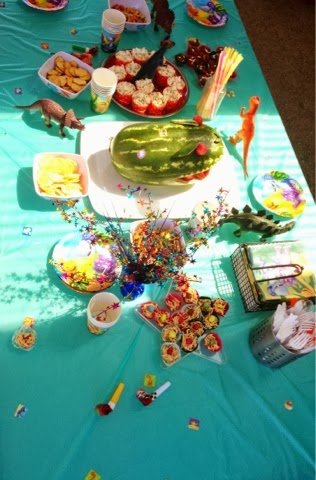 Aerial View of Party Table
Other Food Provided – Pretzels, Rice Crackers, Pizza Shapes, Carrot Sticks and Dip.
Drinks – Pop Tops, Water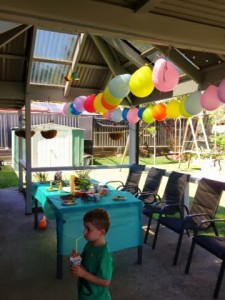 The Set-Up, complete with straw drinking Mr 4
THEMED GAMES
We had three Dino themed activities; these were:
Dinosaur dig – in a pile of sand where we hid small dinosaurs and wooden bone pieces. The children could take home whatever they found.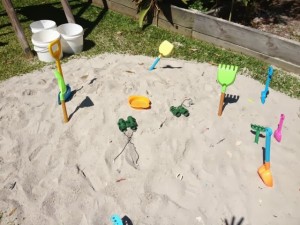 Sand Dinosaur Dig
Sand Art
– this pack was sent to me by my lovely friend Lenka at
Activity Packs
. ….I was a bit worried that the kids wouldn't get into the activity but they all did a great job and it was rather easy for them to do. The parents helped to peel the sections back but mostly the children knew what to do. The pack contains plastic packets for them to take there creations home which they loved.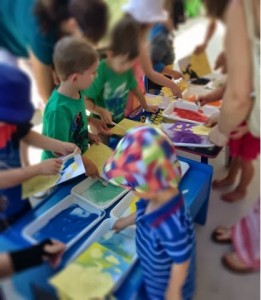 Making their T-Rex Dinosaur Sand Art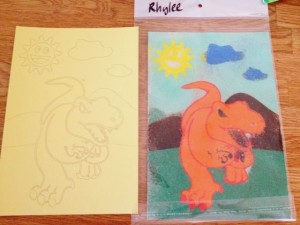 Before & After Made By Mr 4 on his own.
Dino Egg Piñata – I made this myself by putting paper mâché over a balloon, letting it dry, painting it green, adding some cracks with a black marker, popping the balloon, filling with lollies and small dinosaurs, sealing the top and adding the string.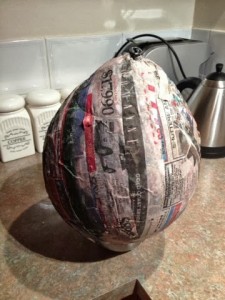 The Paper Mache Balloon for the Pinata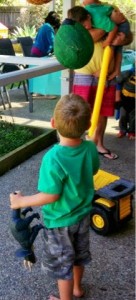 Mr 4 Hitting the Dinosaur Egg Pinata
I was worried that they might not go been able to break it but it was surprisingly easy to break (next time I might do a few more layers – I did 3) all the children knew exactly what to do and scrambled for the lollies when they came out.
These lollies were to be added to their party bag which contained, pens and pencils, note pad, eraser and tub of play dough. (All from Kmart)
THEMED CAKE
I searched through Pinterest for some inspiration and even let Mr 4 have a look. He picked some ridiculously hard cakes that I didn't even want to contemplate thinking about. So we both agreed upon this easy cake which looks impressive.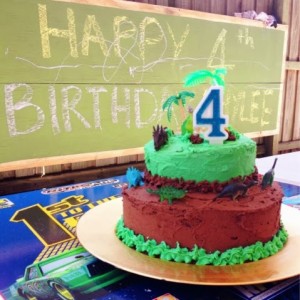 It is simply two different sized circle cakes, iced with butter cream, fancy piping and then decorated with a plastic tree and small dinosaurs.
Butter cream Recipe
This is the first time I have used a stand mixer for making my birthday cakes and icing and it was an absolute time saver. The KitchenAid stand mixer did a superb job of making the best butter cream yet.
250gm Butter, softened (needs to be out of the fridge for at least 4 hours)
4-5 Cups Soft Icing Sugar
1 Tsp Vanilla Essence
For chocolate 1/2 Cup Cocoa
For Green 3:1 ratio of blue and yellow food colouring gives a perfect grass green.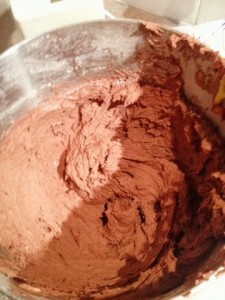 Chocolate Butter Cream
Simply place the butter in the bowl and beat on high speed for 5 minutes or until the butter is a pale yellow colour.
Reduce the speed to low and gradually add the icing sugar until well combined.
Follow with the vanilla essence and then either the cocoa or food colouring.
Ice the cake straight after making. Don't refrigerate the butter cream to use as icing later as it will go hard.
Once the cake is iced either leave out if serving within the next couple of hours or refrigerate overnight.
The party was approx 2 hours long which was ample time. It also meant no boring periods and the kids left on a happy note.
Mr 4 absolutely loved the party and was one exhausted boy by last night. I can't wait to see what he is obsessed with next year.

(Visited 1,155 times, 15 visits today)