I created this last night as a last minute dinner. I had leftover bbq chicken, an already opened tub of Philadeliphia cooking cream, peas in the freezer. So that's how this quick and easy meal came together.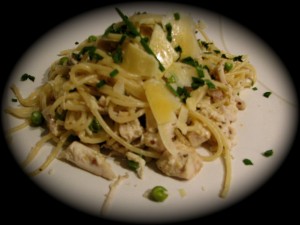 INGREDIENTS
Diced bbq chicken (you can use ham or bacon)
Cooked spaghetti – I use the thin spaghetti when I'm in a hurry as it cooks in less then 10 minutes
Teaspoon crushed garlic
Teaspoon seeded mustard
1/4 cup cream – any type you have on hand.
1/2 cup frozen peas – or any frozen vege on hand.
LETS PUT IT ALTOGETHER
1. Put the spaghetti on to cook while you prepare the sauce.
2. In a fry pan place the crushed garlic and diced meat – heat through.
3. Add the frozen vege and cook until they are softened about 3 minutes.
4. Add the cream and stir through.
5. Finish with the seeded mustard and salt and pepper to taste.
6. Add some water from the pasta – a couple of tablespoons to the sauce to help thicken. The starch from the pasta that will be in the water helps to thicken sauces.
7. Once the pasta is cooked add to the sauce and stir through.
Serve with Parmesan cheese or any cheese will do. Enjoy.

(Visited 474 times, 1 visits today)