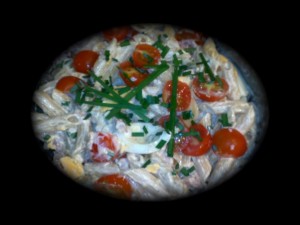 INGREDIENTS:


1/2 Packet cooked cooled Penne Pasta
4 Boiled eggs cut into segments
1 Punnent Cherry Tomatoes, cut in half
2 Tablespoons garlic chives sliced finely
2 Cloves garlic sliced finely
1 Cup Ham, cubed
3/4 Cup Whole Egg Mayo
Salt and Pepper to taste
LETS PUT IT ALTOGETHER


Place all ingredients in a bowl and mix to combine.
Serves 4 – 6 as a side dish.
Great to use up the Christmas ham and the colour of the salad is also festive.
Enjoy

(Visited 184 times, 1 visits today)