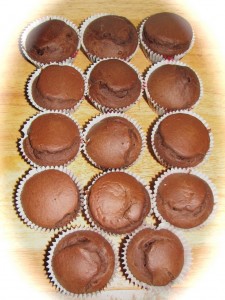 INGREDIENTS
100gm Margarine
1/2 Cup Sugar
1 tsp Coconut Essence
2 Large Eggs
1/2 Cup Milk
2 Cups Self Raising Flour
3/4 Cup Cocoa
1 Cup Boiling Water
LETS PUT IT ALTOGETHER
Combine the Cocoa and boiling water until no lumps.
In a food processor – (or hand mixer)
Cream the margarine and sugar, adding each egg and mixing well after each addition
Add the Coconut Essence and combine
Add the milk and flour and combine once again.
Finally add the cocoa and hot water you combined earlier and mix.
Pour into cupcake papers and bake at 180 degrees for 12 – 15 minutes or until set.
Makes 14 approx.

(Visited 141 times, 3 visits today)