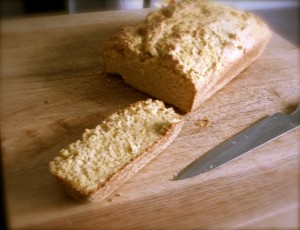 INGREDIENTS
2 Cups Polenta
1 1/2 Cups Plain Flour
1 tspn Salt
4 tsp Baking Powder
1/4 Cup Vegetable Oil
1/4 Cup Brown Sugar
1 3/4 Cup Milk
LETS PUT IT ALTOGETHER
1. Grease a loaf tin or muffin tray and dust with some polenta
2. Place all the ingredients into a bowl as listed above.
3. Mix to combine. The consistency should be like a thick pancake batter.
4. Place into chosen baking tray
5. Bake in a preheated 180 degree oven for 30 minutes.
6. It is cooked when you touch it and it is firm.
This is yummy spread with some jam.
If you choose to make into cupcakes they can be placed individually in a freezer bag and frozen for school lunch boxes.
Next I will be trying a savoury mix with this cornbread base – omitting the brown sugar and adding cheese and herbs.

(Visited 671 times, 23 visits today)