I always have a can of tuna in the cupboard, it's a great emergency item to have in the pantry for when you need a quick and frugal dinner or lunch.  I have added vegetables and curry powder to this version to give it a boost of flavour and goodness.  I opted to leave the breadcrumbs off the top and I find in unnecessary.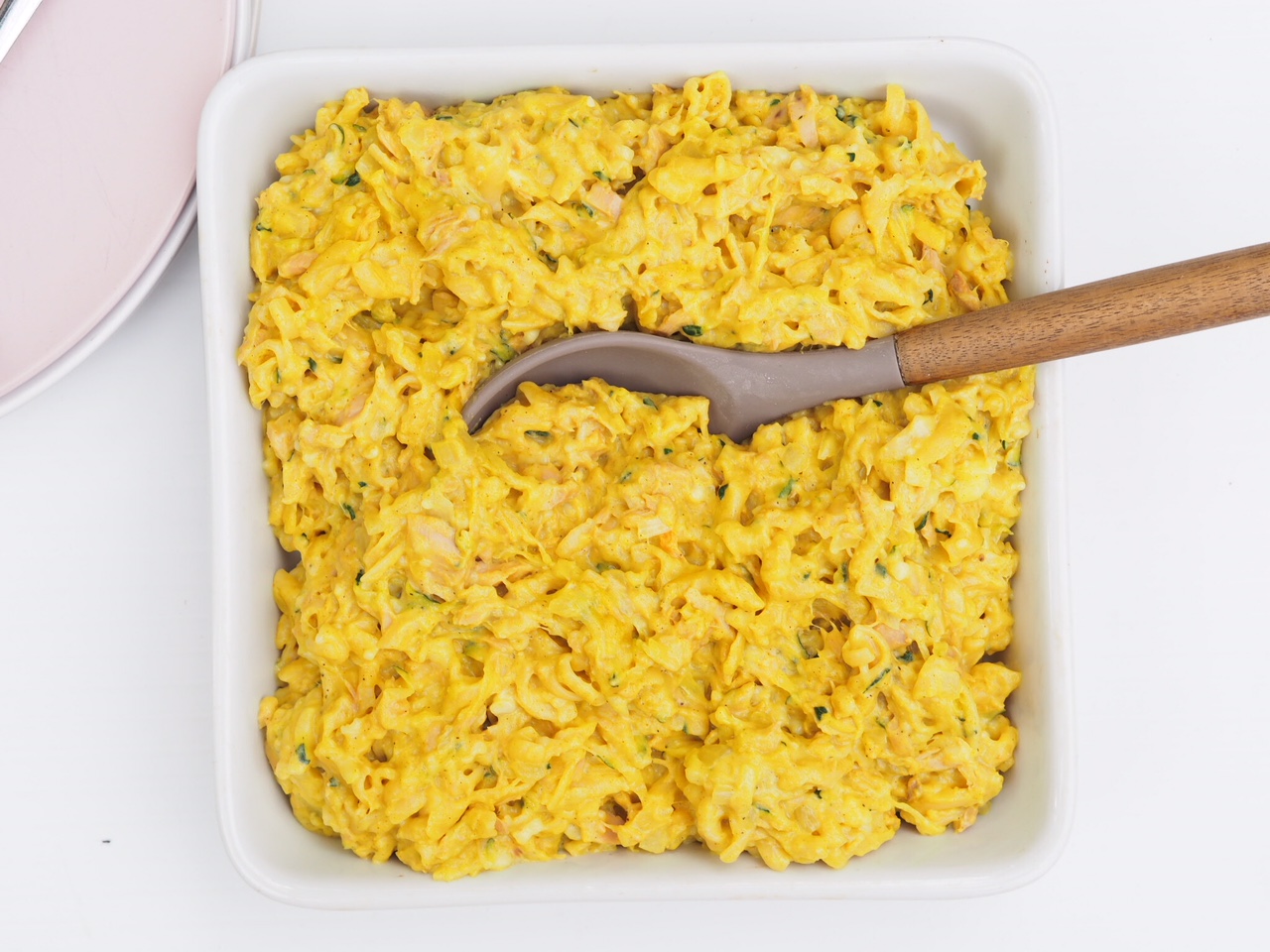 INGREDIENTS
420gm Canned Tuna in Spring water, drained
2 Cups Spiral Pasta, uncooked amount
1 Onion, diced
1 Zucchini, grated
1 Cup Light Cheese, grated
1/2 – 1 Tsp Curry Powder
Salt and pepper to taste
Optional: grated carrot
Olive Oil, for cooking
White Sauce
100 gm butter or light margarine
2 Tbs Plain Flour
3-4 Cups Milk (full cream or skim)
1 Cup Grated Cheese
LET'S PUT IT ALL TOGETHER
Set a pot of water on the stove to bring to the boil.  Once boiling add the pasta and cook.  While waiting for this start the white sauce.
Prepare the white sauce, place the butter in a medium sauce pan and melt over a medium high heat. Once melted add the plain flour and stir for approximately 1 minute. Whisk in the milk and reduce to a medium heat, continue to whisk every 30 seconds or so making sure you don't burn the bottom on the mixture. After about 8 minutes it should start to thicken, remove from the heat and add the cheese mixing well to combine.
Drain the cooked pasta.
Cook the diced onion and zucchini (and carrot if using) in a little olive oil in the pot that the pasta was drained from.  Once the onion and zucchini have softened (about 5 minutes) add the curry powder and stir through until the aroma is released. Add the cooked pasta, drained tuna and stir through.
Stir through the white sauce and cheese and mix well until combined.
Serve with a side salad.
Serves 4-6
Store leftovers in an airtight container in the fridge for up to 3 days.
Freezer friendly: place into a freezer safe container and freeze for up to 3 months.

(Visited 5,576 times, 27 visits today)