These super cute bunny cupcakes a so easy to make, even the kids can help.  These are super cute to take to a party over the Easter long weekend.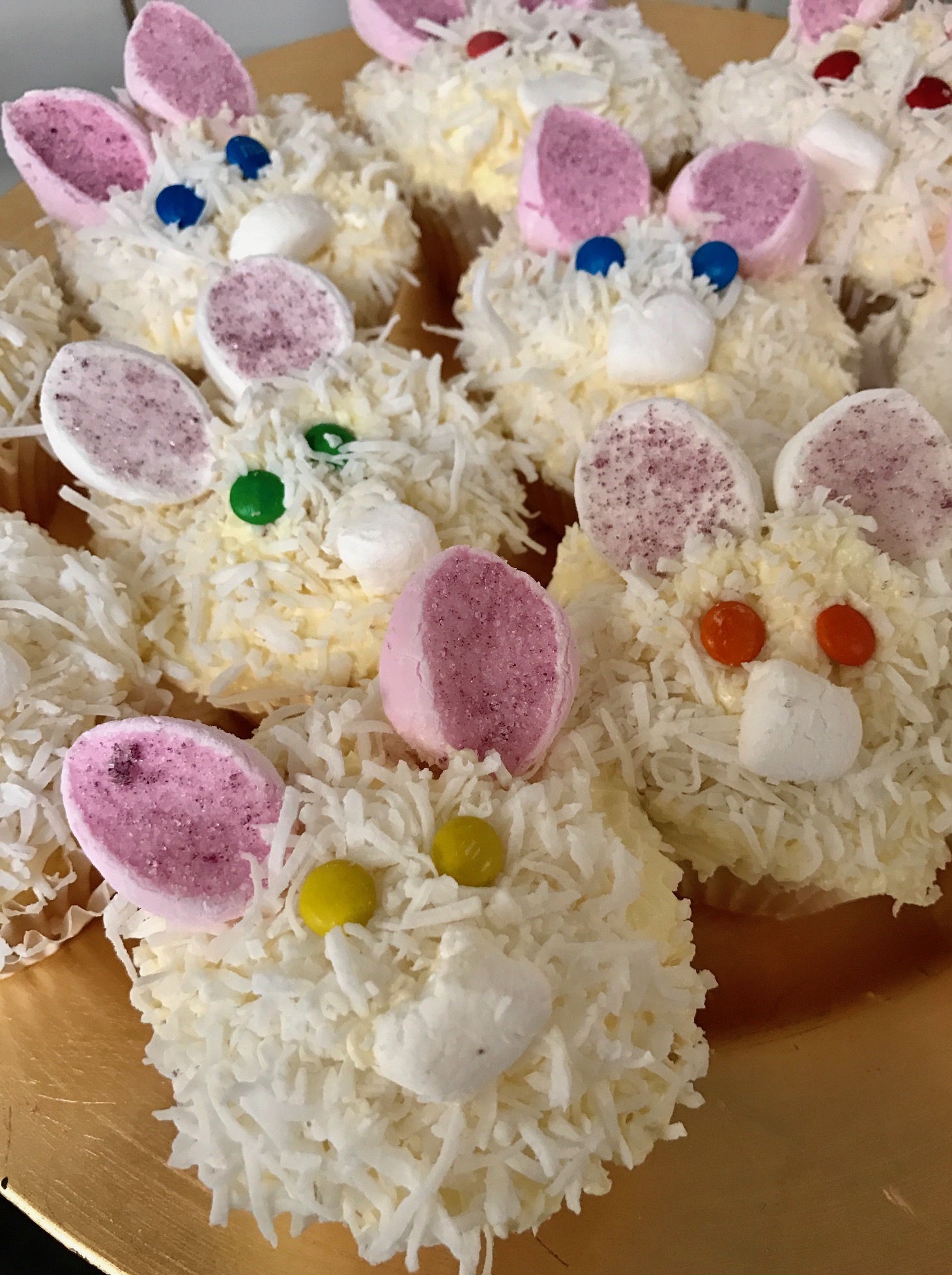 INGREDIENTS
125gm Butter, softened
1/2 Cup White Sugar
1 Tsp Vanilla Essence
2 Eggs
2 Cups Self Raising Flour
3/4 Cup Milk
Vanilla Buttercream Icing
125gm Butter, softened
1 1/2 Cups Icing Sugar
1 Tbs Milk
Decorations
Shredded Coconut
Large pink and white Marshmallows
Mini mm's
Pink sugar sprinkles
LET'S PUT IT ALL TOGETHER
1. Preheat the oven to 180 degree Celsius.  Place white muffin cases in ta 12 hole muffin tin and set aside.
2. In a bowl of a standing electric mixer fitted with the beater attachment or using a handheld beater, beat the butter, sugar and vanilla until light and creamy.  Add the eggs, one at a time, beating well after each addition.
3. Add the flour and milk to the egg mixture and mix until just combined.
4. Divide the mixture evenly between the paper cases.  Bake for 15-20 minutes until the cupcakes bounce back when touched.  Allow to cool in the tray for 5 minutes before transferring to a wire rack to cool completely before decorating.
To make buttercream icing:
Make the buttercream by placing the butter into the bowl of an electric stand mixer and beat until creamy. Add the icing sugar and milk. Beat until smooth and fluffy. Approximately 3-5 minutes.
To decorate:
Ice each muffin with the buttercream.
Press into the shredded coconut.
Cut a large marshmallow on an angle with scissors. This will give you an ear shape.
Press the cut side into the sprinkles and then position on the cupcakes as shown.
Add the eyes (mini mm's)
For the nose, cut a mini section out of a white marshmallow and press into position.
Best served once made.
Makes 12

(Visited 1,545 times, 3 visits today)