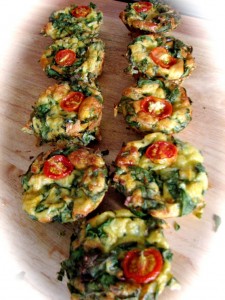 INGREDIENTS
1 Tin Creamed Corn
6 Branches of Silverbeet (Sliced)
6 Eggs (Whisked)
3/4 Cup Grated Cheese
1/4 Cup Spring Onions Sliced
Salt and Pepper to taste
Cherry tomatoes to finish on top

LETS PUT IT ALTOGETHER
In large bowl whisk eggs, add cheese, salt and pepper – stir to combine.
Add the creamed corn, sliced silverbeet and spring onion.
Place into greased muffin tray
Bake at 180 degrees for 15 – 20 minutes or until browned and set.
Allow to cool before removing from muffin tray.
I used home grown silverbeet, spring onions and cherry tomatoes. There is something satisfying about creating a meal out of food you have grown.
Enjoy 🙂

(Visited 6,754 times, 25 visits today)