When I buy fresh mince I always like to make up burger patties and freeze them for a quick meal.
For my little guys I have found that the best way for them to enjoy this is if I bake the mix in a mini muffin tray.
Great advantage of this is that there is no burning or crust on the outside.
They cook evenly and I can cook many at once.
No rolling of or shaping required,
I also freeze these after cooking so that I can reheat for a quick meal for the little guys.
Ingredients
1 kg beef mince
1 Onion, grated
1 Carrot, grated
1 Zucchini, grated
2 Garlic cloves, sliced finely
1/2 Cup Tomato Sauce
2 Eggs
3/4 Cup Breadcrumbs
2 tbs Seeded Mustard
Fresh Parsley
Salt and Pepper to taste
Let's put it altogether
Mix all ingredients together with your hands. Give it a good working to work the proteins in the meat and eggs to ensure the meat will stay together when cooked as burger patties.
For the burger cupcakes cook in a 180 degree oven for 10-15 minutes.
This amount of mix will easily make 8 Burger Patties and 24 mini burger cupcakes.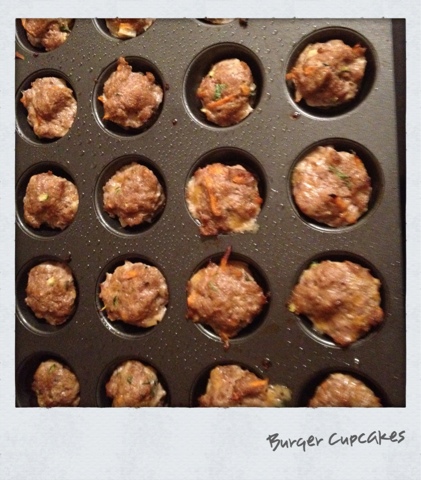 (Visited 3,388 times, 9 visits today)