Ingredients
175gm Pasta (this is the weight prior to being cooked)
1 Jar of Pasta Bake Sauce
1 Cup Broccoli
1 Cup Cauliflower
1/2 Zucchini, cut into small cubes
1 Cup Ham, chopped up
2 cloves Garlic, sliced finely
Parmesan or Grated tasty cheese to finish on top
Let's Put It Altogether
1. Cook the pasta in a large pot of boiling water. Once this is nearly cooked add the broccoli and cauliflower to cook through.
2. Leave everything in the pot and drain off the water once cooked. Break up the broccoli and cauliflower into small pieces.
3. To the pot that has the pasta, broccoli and cauliflower add the zucchini, ham, garlic and pasta sauce. Mix to combine.
4. Place in oven proof dish and tip with cheese.
5. Cook in a 180 degree oven for 15-20 minutes.
I'm normally not a fan of buying pre-made sauces(as they cost more than making up your own from a tomato base) however they are perfect for when you want a lazy meal.
You can also substitute for cooked chicken and adjust the vegetables to suit what your family likes.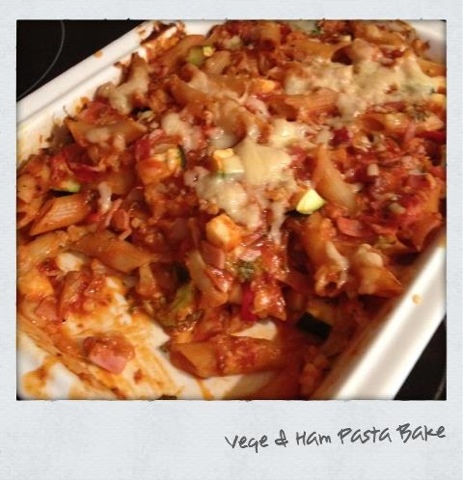 (Visited 457 times, 3 visits today)