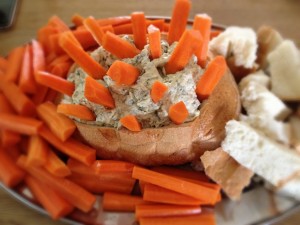 INGREDIENTS


1 Cup Frozen Spinach, defrosted and excess juice squeezed out
1 Cup Sour Cream (light if you prefer)
3/4 Cup Whole Egg Mayo (light if you prefer)
1/2 Packet French Onion Dry Soup Mix
1/2 Packet Spring Vegetable Dry Soup Mix
1 Cob Loaf
LETS PUT IT ALTOGETHER


The dip is best made the night before and kept in a sealed container so that the flavour intensifies. Place into the cob loaf just prior to serving.
Place the spinach, sour cream, mayo, and soup mixes into a bowl and mix to combine. The flavour will get stronger overnight as the dry soup mix breaks down.
Prior to serving, cut a section out of the middle of the cob, without cutting all the way through to the bottom. The bread that is removed can be cut p into bites sized pieces for dipping.
Spoon the dip into the cob and serve with carrot sticks.

(Visited 2,092 times, 1 visits today)