Ramp up your sausage roll repertoire with these super tasty Beef and Bacon Sausage Rolls.  The addition of D'Orsogna Streaky Bacon lifts these sausage rolls to the next level.  Pack filled with flavour and vegetables these sausage rolls are the kind you don't mind the family eating for dinner.
I use premium beef mince for my sausage rolls so you get a nice meaty flavour and a lower fat content making them more of a meal than a snack.
Serve with a side salad or roasted vegetables to stretch them out.
I used the D'Orsogna 500gm packet of Streaky Bacon found in the fridge section of your local Woolworths.  There is enough in this pack to use some now and freeze for later.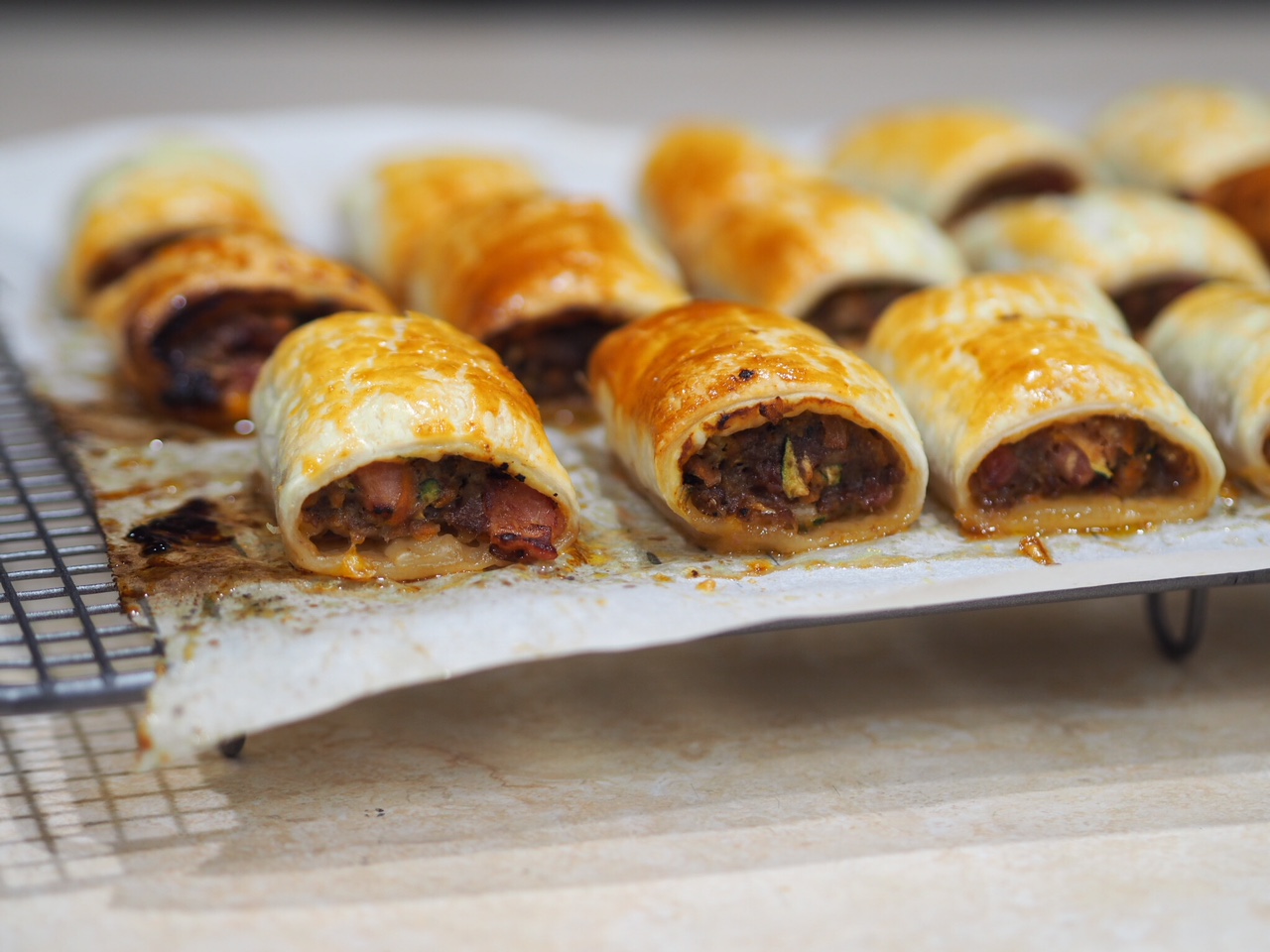 INGREDIENTS
500gm Premium Beef Mince
4 Rashers D'Orsogna Streaky Bacon, diced
1 Onion, diced
1 Carrot, grated
1 Zucchini, grated
1 Tbs Vegeta Chicken Stock Powder
Salt and Pepper to Taste
1/4 Cup BBQ Sauce
1 Egg, whisked
3 Sheets Puff Pastry, defrosted
LET'S PUT IT ALL TOGETHER
In a medium frypan over a medium high heat, add the diced bacon and onion.  Cook stirring regularly until the onion becomes translucent and the bacon browns slightly.  Remove from the heat and spoon into a large bowl.
Add the grated carrot and zucchini to the bacon and onion and mix to combine.
Add the beef, BBQ Sauce, stock powder and salt and pepper to taste.  Using your hands work the mix together for a minute or so.
Lay the first sheet of puff pastry on to a cutting board.  Cut through the middle to form to halves.  Place the sausage roll mix down the middle of each side.  You want it to only be 2cm in height and width.  Then roll the pastry over to make a roll for each half.  Cut each roll into quarters and place onto a lined baking tray.  Repeat until all the sausage roll mix is used.
Using a cooking brush, brush the top of the pastry with the whisked egg.  This will give them a nice golden colour when cooked.
Place into a preheated 180 degree Celsius oven for 20 minutes or until the pastry is puffed and golden and the filling bounces back when touched.
Allow to cool slightly before serving.
Makes approximately 20 small sausage rolls.
Store in the fridge in an airtight container for up to 3 days.
Freezer friendly: once cooled place into a freezer safe container or ziplock bag and freeze for up to 3 months.  Defrost in the fridge and then reheat before serving.
The kids love cold sausage rolls in their lunchboxes as well.
This is a sponsored post for D'Orsogna. Find more recipes like this one visit the D'Orsogna Website and D'Orsogna Facebook Page.

(Visited 5,333 times, 8 visits today)