Meatballs are such a easy and versatile meal to make. You can enjoy them as they are with a dipping sauce, side salad, or winter vegetables. You can add them cooked them next night to your favourite pasta sauce for a easy spaghetti and meatball dinner. They are also perfect cold on a sandwich the next day.
Meatballs are quite similar to making hamburger patties except they are rolled into balls and the rolled into flour before shallow frying and then finishing off in the oven.
Why not try this recipe with another type of mince? Chicken or Pork would work perfectly as well.
INGREDIENTS
500gm Beef Mince
1 Carrot, peeled and chopped
1 Zucchini, peeled and chopped
1 Onion, peeled and cut
2 Cloves, garlic peeled
1 Tsp Oregano, dried
1 Egg
3/4 Cup Breadcrumbs
Salt and Pepper to taste
Plain flour for rolling
Olive oil
LETS PUT IT ALL TOGETHER
1. Into a food processor with the metal blade add the carrot, zucchini, onion and garlic. Process for 20 seconds until they are all chopped into small pieces. If you don't have a food processor you can simply grate the vegetables.
2. In a large bowl place the mince, oregano, egg, breadcrumbs, salt and pepper and the vegetable mix. Work well with your hands to combine all the ingredients.
3. Take tablespoon size amounts of the mix and roll into balls. Place onto a plate. Repeat until all are done. Refrigerate for 30 minutes or until you are ready to use them.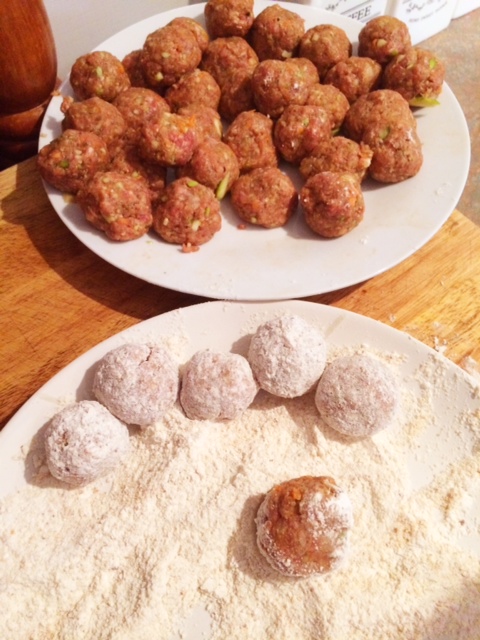 4. In a fry pan add the olive oil, enough for shallow frying. Allow to heat. Also, heat the oven to 180 degree celcius. Meanwhile start to roll the meatballs into the flour gently.Once the oil is hot add the meatballs and cook turning occasionally until they are golden. Remove from the frypan and place onto a lined baking tray. Repeat until all meatballs are cooked.
5. Place the tray with the meatballs on them into the preheated oven and cook for a further 10 minutes. Finishing off the cooking process in the oven stops from burning the meatballs in the frypan.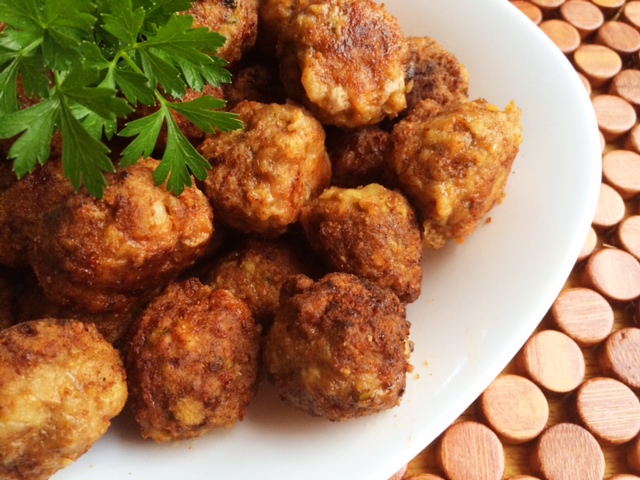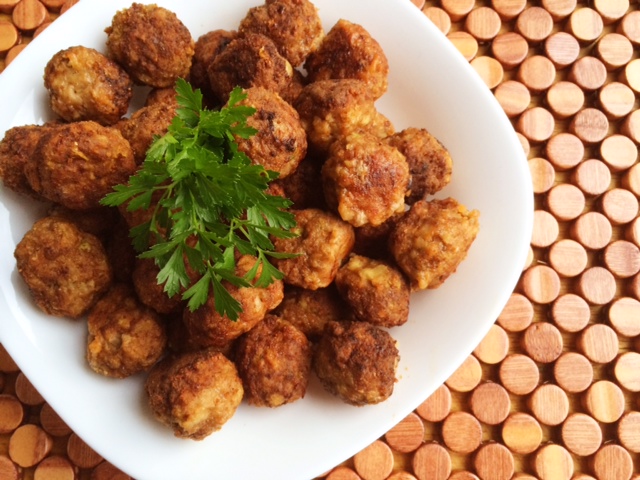 Makes approx 24 – 30 meatballs.
Store leftovers in a sealed container in the fridge for upto 3 days.
Suitable to be frozen after or before cooking.

(Visited 15,326 times, 32 visits today)