My boys love icing and what kid doesn't? Unfortunately that means I am usually left with a muffin that only has the top bitten off and the rest is deemed not worthy to be eaten by the kids as there is no icing. To solve this little dilemma I decided to put the 100's and 1000's into the muffin batter so they would have a colourful fleck effect and guarantee that they would eat the whole muffin.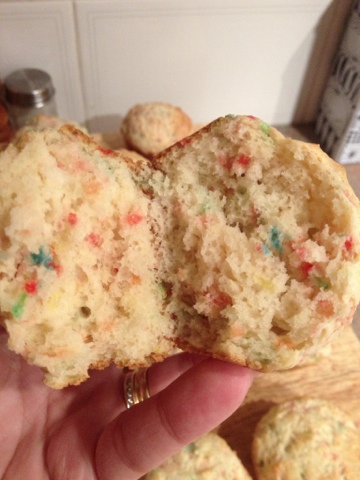 These turned out to be a huge hit with the boys that I had to end up hiding them as they became slightly addicted to them meaning that my reverse thinking worked to damn well.
This is just a basic muffin mix that you can add whatever you like to. Things like blueberries, chocolate chips, mm's are all great options.
INGREDIENTS
2 Cups Self Raising Flour
1/2 Cup Sugar
1 Egg
1 Cup Milk
1/4 Cup Light Olive Oil
1 Tsp Vanilla Essence
1/2 Cup 100's & 1000's
LET'S PUT IT ALTOGETHER
1. Place all the ingredients in a bowl and mix to just combined. Then fold through the 100's & 1000's.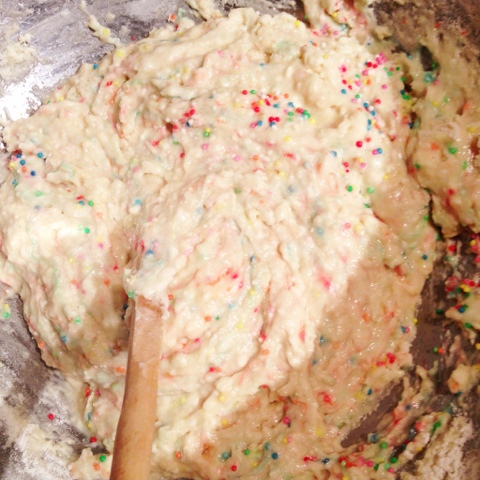 2. Divide the mixture into a 12 hole greased muffin pan. Bake at 180 degree Celcius oven for 15 minutes or until lightly browned and they bounce back when touched.
These are best enjoyed on the day of baking. Or freeze the same day in ziplock bags for the school lunchboxes or to enjoy anytime.

(Visited 2,522 times, 26 visits today)