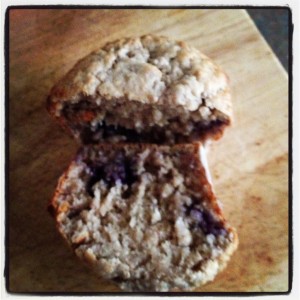 INGREDIENTS
1 Cup Blueberries
2 Ripe Bananas, Mashed
1 2/3 Cups Plain Flour
1 Cup Oats – I used instant
1/2 Cup Brown Sugar
3 Teaspoons Baking Powder
1 Teaspoon Cinnamon
1 Teaspoon Salt (optional)
2 Eggs, Separated
3 Tbs Vegetable Oil
1 Cup Milk
LETS PUT IT ALTOGETHER
1. Place dry ingredients (Flour, oats, sugar, baking powder, cinnamon & salt) in a large mixing bowl
2. Egg the egg yolks, in another place the eggs whites and whisk until white and frothy
3. Continue to add all remaining wet ingredients and mix to combine
4. Fold in the egg whites gently
5. Place into a muffin cases in a muffin tray and bake for 15 – 20 minutes in a 180 degree oven.
MAKES 12 – 14 muffins

(Visited 993 times, 5 visits today)