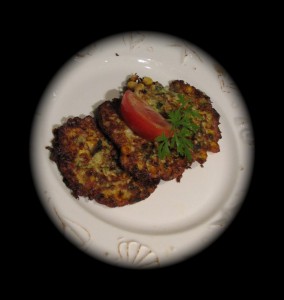 INGREDIENTS


1 Cup Corn – frozen or canned
1 Medium Zucchini grated
3 Eggs
3 Tbs Plain Flour
200gm Cottage Cheese
Handful of chives cut finely
Salt & Pepper to taste
Vegetable Oil to Cook in
LETS PUT IT ALTOGETHER


Place all ingredients into a large bowl and mix together
Heat a 1cm layer of vegetable oil in a frying pan
Add spoonfuls of the mixture and cook for approx 3 minutes each side until golden brown.
Place onto paper towels and continue until all batter is cooked.
My 10 month old loved them so did my 9 month old niece – they make great finger food being so soft.

(Visited 2,334 times, 26 visits today)