I must admit I do love Pork mince. The price, the flavour and healthier than beef are all good reason for me to love cooking with it and coming up with new ways to enjoy it.
These Asian Pork patties were inspired by the Gourmet Garden herbs I had in my fridge. I have used ginger, coriander and lemongrass. They would also benefit from come chilli however this wasn't added as I wanted to make them toddler friendly. You could always divide the mixture in half and add some chilli to that.
INGREDIENTS
500gm Pork Mince
1 Carrot, gated
1/2 Zucchini, grated
1/2 Onion, diced finely
1 Tbs Gourmet Garden Ginger
1 Tbs Gourmet Garden Lemongrass
1 Tbs Gourmet Garden Coriander
1 Tbs Fish Sauce
LET'S PUT IT ALTOGETHER
1. In a large mixing bowl combine all ingredients and scrunch through your hands well for about 3 minutes. This helps to work the proteins in the meat and means that you don't need to add any eggs or breadcrumbs.
2. Make into medium sized patties about 2 cm thick and cook on a medium heat frypan with a little oil.
3. Try to turn regularly to avoid burning.
Enjoy with the side dish of your liking.
They are shown here topped with some natural Greek yoghurt and a Risotto ( clash of the cuisines I know) but go with what your family enjoys there is never no right or wrong side dish.
The risotto recipe can be found here shortly.
NOTE: The mince will keep in the fridge for 24 hours uncooked.
Patties can be frozen after cooking in individual zip lock bags and then reheated in the microwave.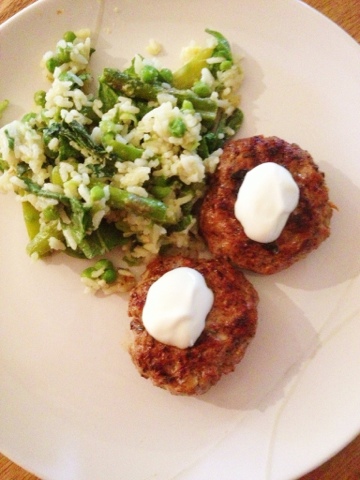 (Visited 586 times, 2 visits today)