Risotto's are such a versatile meal or side dish and once you have mastered one you can experiment with other flavourings. Pumpkin & Feta is also a favourite and can be made exactly the same way as I will show you here just replace the asparagus step with the pumpkin and the Parmesan step with feta.
INGREDIENTS
1 Cup Dry Rice
5 Cups Chicken Stock
5 Asparagus spears, fresh and cut into thirds
2 Tbs Garlic Granules (found in the dried herb section)
1 Cup Frozen Peas
1/2 Cup Parmesan
1 Tbs Butter
Pepper to taste
LET'S PUT IT ALTOGETHER
The most important part of a risotto is that you have to keep the rice moving. It will take about 20 minutes of continual stirring to make a risotto so don't attempt it when the kids are at your feet otherwise you will burn the rice.
1. Place the cut asparagus spears and garlic granules into a large sauce pan with a little oil.
2. Stir for 5 minutes to start the softening of the asparagus.
3. Add the rice and stir for 2-3 minutes giving the rice just enough time to absorb some of the flavours already in the pan.
4. Over a medium heat – Add 1 Cup of Chicken stock to the pan and stir continually until the stock has been absorbed.
5. Continue until the 5 cups of stock have been added (1 cup at a time, allowing the stock to be absorbed after each addition before adding another)
6. Add the peas and mix to combine.
7. Add the Parmesan and butter and stir to combine. Season with pepper if needed.
8. Remove from heat and serve immediately.
Optional baby spinach leaves can be stirred through at the end.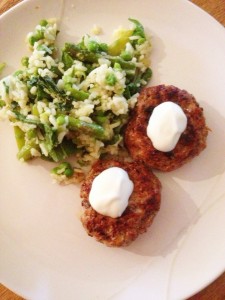 Top Left: Asparagus & Pea Risotto Bottom Right: Asian Inspired Pork Patties
THE RECIPE FOR THE ASIAN INSPIRED PORK PATTIES AS SHOWN IN THIS PHOTO CAN BE FOUND BY CLICKING HERE
My youngest how I would call a pretty good all round eater enjoyed this dish, my 3 year old who has always been on the fussy side didn't like it due to being green. He has however eaten the Pumpkin & feta risotto i mentioned at the start.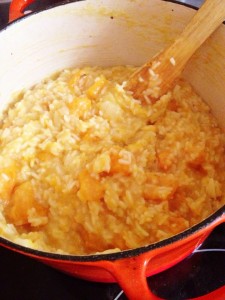 PUMPKIN & FETA RISOTTO

(Visited 453 times, 2 visits today)