MINI BURGERS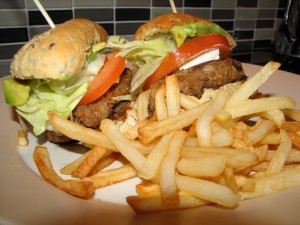 INGREDIENTS
500 gm Beef Mince
1 Small brown onion diced finely
1 garlic diced finely
Handful of fresh parsley chopped finely
1 Egg
1 tbls seeded mustard
2 tbls tomato sauce 3/4 – 1 cup Breadcrumbs
6 Mini Bread Rolls
Salt and Pepper
Fillings: Lettuce, tomato, cheese, avocado, fruit chutney – the choice is yours
LETS PUT IT ALTOGETHER
1. Pre cook the onion and garlic in some olive oil
2. Place all other ingredients in a bowl and add onion and garlic once soft.
3. Mix together with hands, you can add more breadcrumbs if too sticky.
4. Mould into patties that match the size of the mini rolls.
5. Cook and assemble to your tasting.
Serve with fries.

(Visited 358 times, 6 visits today)