CHICKEN AND VEGETABLE KEBABS SERVED ON A BED OF COUS COUS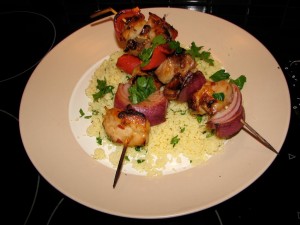 INGREDIENTS:
4 – 6 Chicken Thigh Fillets
1 Red or Green Capsicum
1 Red Onion
8 Button Mushrooms


MARINATING SAUCE


3 Tbl Spoons BBQ Sauce
3 Tbl Spoons Sweet Chilli Sauce
1 clove of garlic crushed
2 Tbl Spoons Brown Sugar
COUS COUS
Follow as per box instructions, but add some powered chicken stock to the water for extra flavour and toss through some finely chopped parsley before serving.
LETS PUT IT ALTOGETHER
1. Pre-soak kebab sticks – I did 8 and wrapped them in a paper towel soaked in water.
2. Cut chicken thigh pieces, capsicum, onions and mushrooms (if small leave whole) into chunks
3. Place chicken pieces into a bag and add the marinating sauce – leave some to baste the kebabs during cooking.

****YOU CAN PREPARE UP TO HERE IN THE MORNING AND FINISH IN THE AFTERNOON


4. Assemble the kebabs alternating between chicken and vegetables until all sticks a filled leaving a gap and the bottom to hold and a gap at the top (you may want to cut the sharp tip off after assembling for old kids – or remove ingredients after cooking for toddlers)
5. Lightly oil a pan and cook until ingredients start to brown – OR COOK ON THE BBQ THEY ARE PERFECT FOR THIS.
5. Place in the oven with a little extra of the sauce on top to finish cooking so they don't burn in the pan.
6. Prepare cous cous and set aside to swell.
7. Serve and enjoy.

(Visited 484 times, 4 visits today)