***To cook a weeks worth of dinners under $10 each night for a family of four you will need to have basic ingrdients such as flours, tomato sauce/s, herbs, salt & pepper etc in your pantry.

*?*You can adjust some dishes to fit in with what you already have on hand.
VEGETABLE FRITTERS SERVED WITH LEAFY SALAD
After a weekend of indulging, lets start with a no meat dish to get us started.
INGREDIENTS:
2 potatoes grated – you try sweet potato also
1 large zucchini grated
1 large carrot grated
1 large brown onion grated (bring on the tears)
3/4 cup of frozen pea and corn mix
1 clove of garlic crushed
1/2 – 1 cup Self Raising Flour – add until you get the right consistency – varies due to vegetable sizes
1/4 cup parsley – fresh or you could use some dried herbs of choice if they are in the pantry
3 Eggs
Vegetable oil for shallow frying
***To make gluten free, substitute normal flour for rice or corn flour.
***Vegetables can be substituted as well – capsicum, broccoli, pumpkin are great as well – just make sure that it is a vegetable that remains in its original form after cooking – eg. pumpkin would be too soft if you used chunks, but would work if you grated it as per potatoes.
SALAD – leafy greens, tomato, spanish onion, grated carrot – your choice of what you have in your fridge
LETS PUT IT ALTOGETHER
1. In a large bowl place all the grated vegetables, peas and corn, crushed garlic and parsley.
2. Add self raising flour to coat all vegetables evenly
3. Add eggs, and mix. If it is too runny add some more flour.
4. Make into patties and shallow fry until browned and cooked through, put on paper towel to soak up any oil.
5. Serve with sweet chilli sauce or tomato sauce for the kiddies.
TIP: You can pre-prepare all the vegetables earlier in the day to make it easier at dinner time.
****Photo is for demonstration purposes only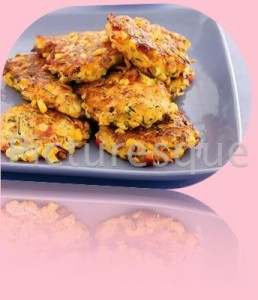 (Visited 706 times, 6 visits today)