Why haven't I made Enchiladas before? It's crazy to think I have gone this long without making them. Why? Not sure really but now that I have made them they could quite easily feature as a regular work night meal.
These took less then 20 minutes to get in the oven and could of been even quicker if I prepped my chicken the night before, and while in the oven I was able to get the kids ready before dinner.
These are also great as you can control the 'spice factor' of this dish as your not using a prepackaged season mix meaning the whole family can enjoy them.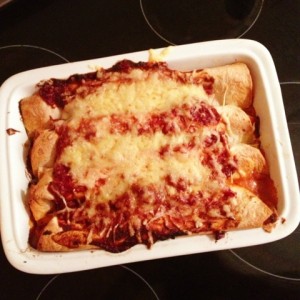 INGREDIENTS
2 Chicken Breasts, cut into 1cm cubes
1 Can Cannellini Beans, drained and rinsed – kidney beans or four bean mix would be great to.
1 Can Tomato Soup
1 Tbs Garlic Granuals
1 Tbs Onion Granuals
1 Tsp Sweet Paprika
2 Tsp Mexican Spice Mix
1/4 Tsp Dried Chilli Flakes
Salt and Pepper to taste
4-6 Tortilla Wraps
2 Cups Grated Light Cheese
Olive Oil
1 Tbs Corn Flour
2 Tbs Water
LET'S PUT IT ALTOGETHER
1. Place the tomato soup, garlic & onion Granuals, spices and salt and pepper into a small saucepan. Simmer over a medium to low heat for 10 minutes. While this is simmering away prepare the filling.
2. Place the cubes chicken pieces into a hot frypan with some olive oil. Cook for 5-8 minutes stirring continually. Once lightly golden add the can of Cannellini beans along with half of the tomato sauce mix. Stir to combine.
3. Place 1 tbs cornflour and 2 tbs of water into a cup, mix to form a paste and then add to the chicken mix. Stir through until the sauce has thickened. Remove from the heat.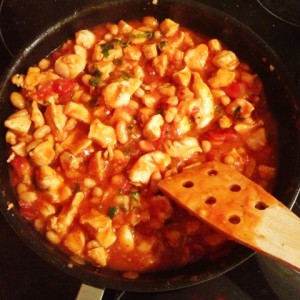 4. On each wrap place a enough of the chicken mix to cover side to side and top with some grated cheese. Wrap the tortilla up and place seam side down into a greased baking tray. Repeat until all enchiladas are made.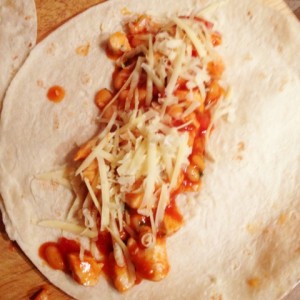 5. Pour the remaining tomato sauce mix over the enchiladas through the centre and top with the remaining cheese.
6. Bake in a 180 degree Celsius oven for approx 10 minutes or until golden brown.
Enjoy with rice or a leafy green salad.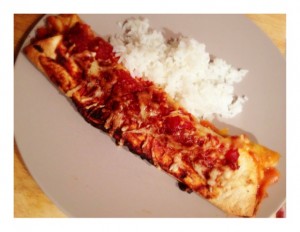 Makes 4-6 Enchiladas
Great for leftovers simply reheat in the microwave.

(Visited 2,230 times, 2 visits today)