Last weekend we celebrated our eldest son's 5th Birthday. He had chosen a Trash Pack theme and while that was all well and good, I had to add the Green Theme element to make all work. Luckily there were heaps of green decorating options and I got lots of ideas from Pinterest.
While it is lovely to celebrate our children's birthday's at home with friends from kindy and family, it sure is a lot of work. I wouldn't say the actual food side of things was a lot of work, it was more the organising, decorating, fitting in a swimming lesson 2 hours before the party was to start (never-will-i-do-that-again) and just the general making sure we were all good to go.
I felt a little like the contestants on The Block when they have minutes to go, I was literally taking food from the fridge and dropping it on the table, directing my helpers to do this and that and then I looked at the clock and we had 4 minutes before the guests were meant to arrive to take a breath and I was able to grab a few snap shots. I failed miserably in getting any photos of the cake and mid celebration. At the end of the day the only thing that really mattered was that Mr 5 was happy and enjoyed seeing his friends at his home and playing together.
Here are a few snap shots of the food table with a brief description of what it all is. If you have any questions leave me a comment and I will hopefully be able to answer it for you.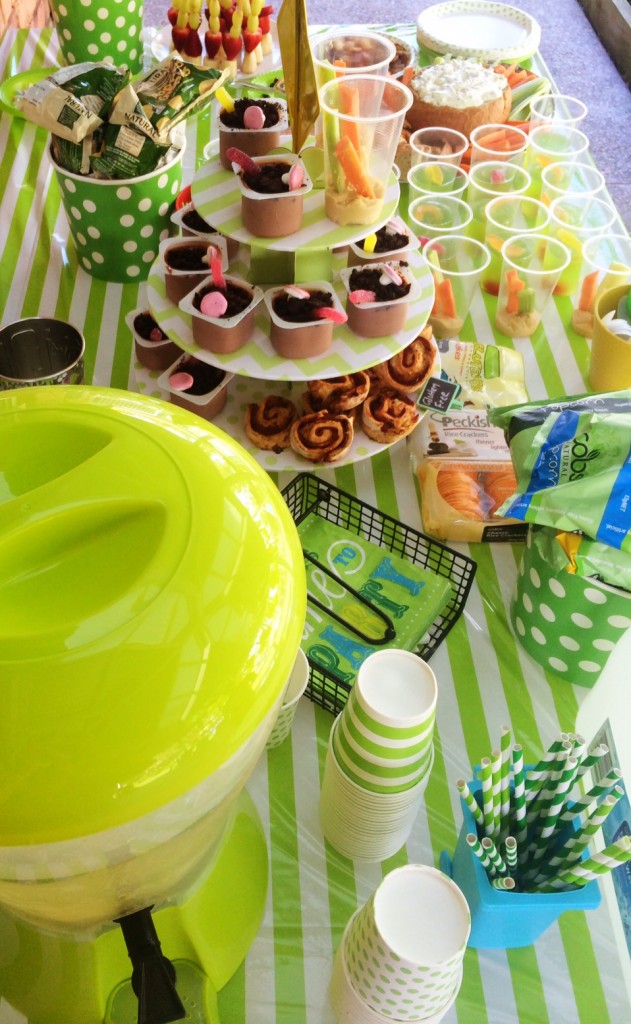 The Cake was a simple rectangle cake iced and an eatable Trash Pack Print that I ordered from ebay placed on top.
Supplies:
Plates, Cupes, Straws, Table Cloths, Knives, Forks Spoons, String Flags, Green Pom Pom things, Streamers – Kmart
Balloons, dot plates, dot containers – Stacks
Three tier stand – Aldi
Drink Dispenser – Masters
Trash Pack Website: www.trashpack.com
Games Played:
Pass the Parcel
Toss the rubbish into the garbage can
Trash Pack Garbage Can Hunt
Plus available to do as they pleased – trash pack colouring pages, make trashies from play dough, play with Trash Pack toys.

(Visited 865 times, 5 visits today)