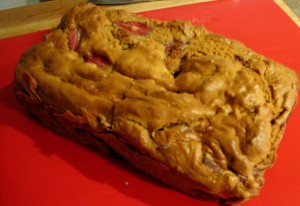 INGREDIENTS
1 teaspoon vanilla essence
2 Cups Self Raising Flour
1/2 teaspoon bi-carb soda
Pinch Salt
1 teaspoon ground cinnamon
1/2 cup (120 ml) sour cream
1 1/2 cups chopped fresh strawberries


LETS PUT IT ALTOGETHER
In a small bowl use and electric mixed and cream the sugar and butter.

Add each egg and beat well after each addition

Add the vanilla essence and beat to combine

In a larger bowl add the flour,bi-carb soda, salt and cinnamon and whisk (instead of sifting is a great quicker alternative)

Add the mixture in the smaller bowl in three lots beating after each addition alternating with the sour cream – add one part bowl mix to flour mix, then add sour cream etc. until all combined

Fold through the strawberries

Place into a loaf tin and bake in a 180 degree oven for about 50 minutes or until top is golden and when a skewer is inserted it comes out clean.

Slice and enjoy.

This can be sliced and frozen as well.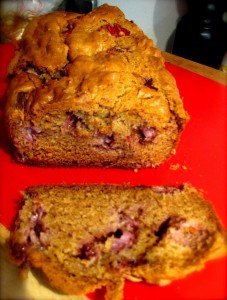 (Visited 131 times, 1 visits today)