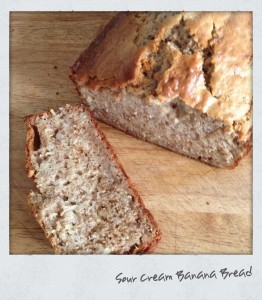 Wet ingredients:
2tbs softened butter
2 overripe bananas mashed
1 cup sour cream
1/2 cup raw sugar

Mix to combine

Dry ingredients:

2 cups plain flour
3/4 tsp salt
1/2 tsp bicarbonate soda
1/2 tsp baking powder
3/4 tsp cinnamon

Add to wet ingredients mix to combine
Place in a lined loaf baking dish.
Cook in a pre-heated 160 degree oven for 50 mins or until cooked all the way through when a skewer is inserted.

Individual pieces can be wrapped and frozen.
Serve with lemon icing which is simply lemon juice mixed with icing sugar until you get a smooth slightly running paste consistency. Drizzle over a cooled cake and top with dessicated coconut.

(Visited 2,061 times, 1 visits today)