I have two little boys one turning 1 on Saturday and the other 2.5yrs old. With such a small age gap Mr 2.5yr is still wanting to "do/have" everything that his brother is.
That being said dinner time is crazy:
"I want to sit in the highchair" Mr 2.5 will yell
"No, your brother has to sit in the highchair you sit in the big boy chair (normal table seat" I say.
Within seconds of placing him on the normal dining seat he gets down and is off – and can't get back up by himself.
I needed a solution and then in my newsfeed one morning I saw a photo from Lime Tree Kids and I was in LOVE!!!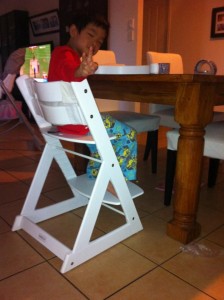 I contacted the lovely Shelley from Lime Tree Kids and before I knew it I had a box at my door, RTA (and I must say very easy to put together, all done by allen key and I was able to do it on my own within 30 minutes)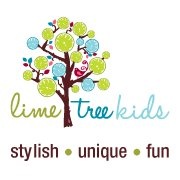 Here is the link to the product details on Lime Tree Kids website: SOHO WOODEN HIGHCHAIR
What I LOVE about this highchair:
The height of the seat can be adjusted as your child grows
The step at the bottom can also be adjusted
The strap around the child's mid-section can be removed completely for older children – this will easily suit my children until 5/6 yrs of age.
It is a solid timber construction with an easily wipeable surface
Padded seat and back rest are provided that can be simply removed (velcro) and washed as needed.
It comes in 3 modern colours to complement your current dining table
I takes up less room than a standard highchair as it becomes part of your dining setting
It allows your child to be involved in normal mealtimes as they can eat straight from the table like mum and dad
It is great to use for craft time at the table as well as cooking at the bench with older children
It has non-marking feet that move easily over tiles
Here is Mr nearly1 enjoying his spaghetti straight from the table: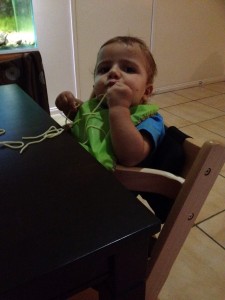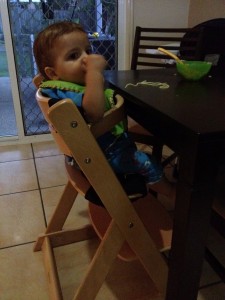 **It is recommended that you have the harness for extra safety: available to purchase separately(not shown here)
Here is Mr 2.5 sitting in the chair without the front bar.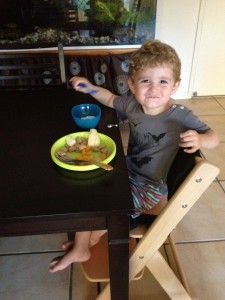 LIME TREE KIDS – is a collection of unique and quality made items for children.

(Visited 1,368 times, 9 visits today)