Chicken soup is enjoyed often during the Winter months.  It warms you up and when you have a cold it is believed that the goodness released from the chicken bones helps to ease the cold symptoms.
I know I regularly turn to this chicken, vegetable and noodle soup when I feel the nasties coming on during winter and feel that it has helped ease the symptoms of the cold.
I have cooked this in the slow cooker, however you can simply place this all on the stove top and simmer for 2-3 hours. Increase the chicken stock by double the amount (3 litres) if cooking on the stove top.
INGREDIENTS
1 whole chicken
1.5 litres of chicken stock
2 carrots, diced
1 Zucchini, diced
1 onion, sliced
4 garlic cloves, whole
Salt & Pepper to taste
125gm Rice Vermicelli Noodles, Dry
LET'S PUT IT ALL TOGETHER
1. Place the chicken, carrots, onion, garlic, stock, salt and pepper into the slow cooker. Cook on high for 4 hours or low for 8 hours.
2. In the last hour add the zucchini.
3. Remove the whole chicken from the slow cooker and place on a plate to cool a little. Pull all the chicken meat off the chicken bones and place the meat back into the slow cooker.
4. Add the dry vermicelli rice noodles to the slow cooker about 30 minutes before you are ready to eat.
Stir to combine and serve.
Serves 6
Great for leftovers. Store in air tight containers in the fridge for up to 3 days.
Freezer friendly. Store in zip lock bags for air tight containers for up to 3 months.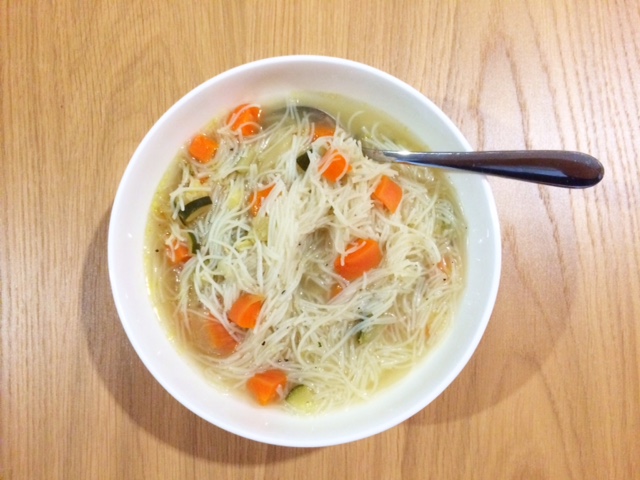 (Visited 19,184 times, 11 visits today)