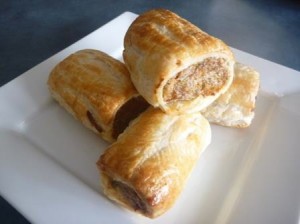 By Kendall
500g Sausage mince (I bought mine in a roll from the meat section at Coles)
1 finely diced onion
1 grated zucchini
1 grated carrot
Salt and Pepper to taste
1 cup breadcrumbs
1 egg – lightly beaten
2 tbsp fresh parsley
1 tbsp tomato sauce
Packet of Frozen Puff Pastry Sheets + 1 egg lightly beaten to glaze
LET'S MIX IT UP!
1. Pre heat oven to 150 degrees Celsius and line a baking tray with baking paper.
2. Mix all ingredients in a bowl and squish with your hands to combine well.
3. Cut a sheet of Puff Pastry into half to get two rectangles.
4. Take enough of the meat mix and roll into a log shape to the same length as your pastry. Lay the meat log in the centre of your pastry.
5. Lightly baste the edges of the pastry with the extra beaten egg to help it seal then roll the pastry around the meat log to form your sausage roll.
6. Trim each end so it is neat, then cut into desired length for each roll (I cut mine twice, giving me three rolls from the one long roll).
7. Put on Baking tray and glaze with eggwash.
8. Bake in 180 degree oven for around 25-30 minutes until golden.
This made 18 rolls for me cutting the long roll into thirds.
The meat mixture will be quite wet and sticky I found, if you don't like it too wet just add some more breadcrumbs, or else like I did, line your bench with cling film and roll it out on that.

(Visited 1,137 times, 13 visits today)