These Salmon Patties were gobbled up by my two boys who refuse to eat fish but will happily eat fresh crumbed calamari, so I know they must be good.  I have chosen to use fresh Atlantic Salmon Fillets (I purchase mine from Aldi, they are about $11 for 4 fillets (500gm)) and it is money well spent as you get a nicer patty then you would if you used canned salmon.  Also using the Atlantic Salmon fillets meant that there was less fish taste and smell and the main reason the boys enjoyed them so much.
There are a couple of steps to make them but you can have it all cooking at the same time so it actually comes together quite quickly at the end.  I made these when I cam home from work and they were ready in 30 minutes.
INGREDIENTS
375gm Atlantic Salmon Fillets (3 fillets)
6 Baby Potatoes, cut into quarters
2 Slices Bread
1 Onion, diced
1 Tbs Minced Garlic
1 Large Egg
Salt and pepper
Olive Oil, for cooking
Dry breadcrumbs, for coating
LET'S PUT IT ALL TOGETHER
1. Fill a frypan with water and place over a medium high heat stove.  Add the salmon fillets and leave to poach for 8 minutes.  Remove from the water and allow to cool before removing the skin which should just fall off.
2. While the salmon is poaching place the potatoes into a saucepan of water and bring to the boil.  Allow to cook until a knife easily goes through the potato.  Drain the water.
3. In a small saucepan saute the onion and garlic in a litte olive oil until the onion softens. Set aside.
4. Using a food processor, process the bread to make fresh crumbs, remove from the food processor.
5. Add the potatoes, onion and garlic to the food processor and process until a mashed consistency is achieved.  Add the poached salmon, egg, fresh breadcrumbs and salt and pepper to taste, process until combined.
6. Take golf ball sized amounts of the mix and make into a patty shape, coat in the dry breadcrumbs and place on a plate.  Repeat until all the mix is turned into patties.
At this point you can freeze the patties flat in zip lock bags for up to 3 months or you can cook them.
7. To cook, simply add enough oil to a large frypan to shallow fry and cook until golden brown then flip and cook until golden brown on the other side.  Remove from the frypan and place onto paper towels to soak up any excess oil.
Serve with a side salad and oven baked chips.
Makes approx 20 patties
Once cooked store in an airtight container in the fridge for up to 3 days.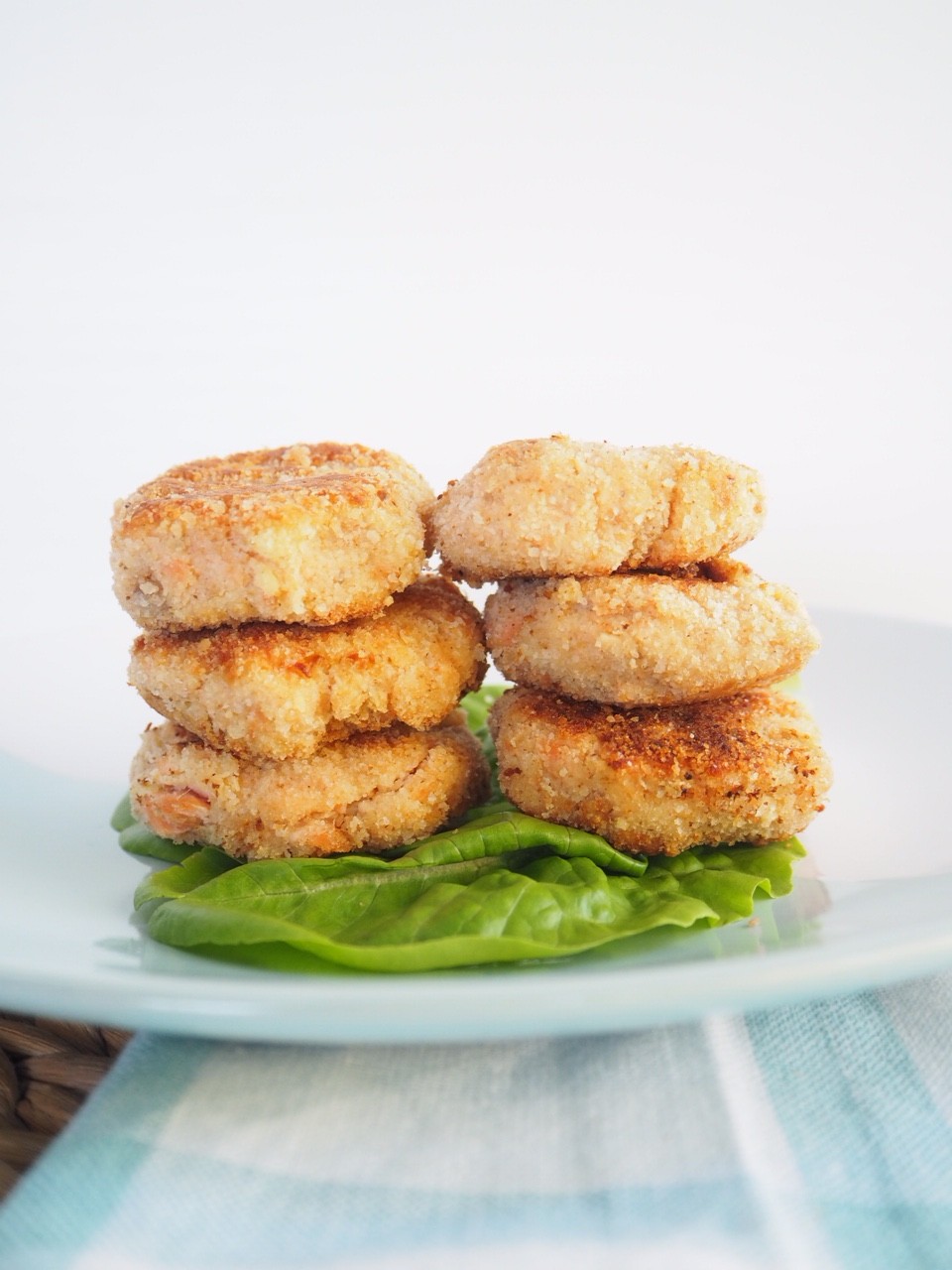 (Visited 8,652 times, 4 visits today)