Once a week especially before grocery and clean out the fridge day I like to make a meal that is meat free. The benefits of this are: we minimise food wastage, it's cheaper and we get a good dose of vegetables. Now the boys on the other hand don't normally eat the completely vegetable based meal as I get the normal reactions of "yuck", the tongue blows etc so they will have the night before a leftovers or homemade pita bread pizzas with my vegetable sauce I have in the freezer in small portions to use as the pizza sauce or pasta sauce.
The night before I had roasted the last of the pumpkin while the oven was on.mit was cold and ready to go for when I got home from work. 5 minutes making it and about 50 minutes in the oven and you have a well balanced meal you will love and can have for lunch the next day too.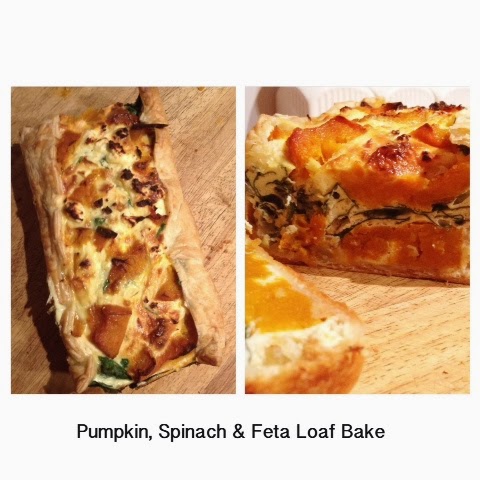 INGREDIENTS
1/8 of a whole jap pumpkin, roasted, skins and seeds remove, chopped into chunks
6 Eggs
125ml Sour Cream
2 Handfuls of baby spinach
1/4 onion, sliced finely
100gm Feta cheese
1 Sheet Puff Pastry
Salt and pepper to taste
LET'S PUT IT ALTOGETHER
1. Preheat the oven to 190 degree Celcius. Grease a loaf tin and lay the sheet of puff pastry into it on the long sides.
2. In a medium bowl whisk the eggs, sour cream, salt and pepper. Stir through the onion and baby spinach leaves.
3. Place a layer of the pumpkin chunks onto the puff pastry.
4. Pour in the egg mixture.
5. On the top place the feta and the remaining pumpkin chunks.
7. Fold over the side of the puff pastry to go onto the mixture.
8. Place in the oven and bake for about 50 minute or until it is firm to touch.

(Visited 1,288 times, 13 visits today)