This Winter I have made nearly every vegetable soup I could think of except Pumpkin Soup which seems strange as it is one of the most common soups made. Last year I did a slow cooker version but this year I wanted to attempt a roasted version. I haven't had much luck in the past with roasted pumpkin soup it just never turned out right and I don't know why?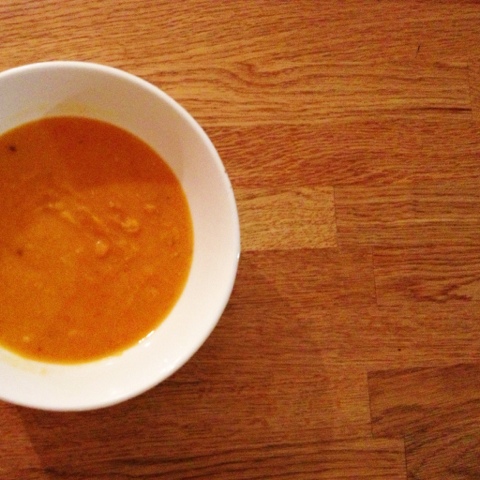 When I picked up a whole butternut pumpkin for 29c (I know so cheap) I knew I had to give am roasted pumpkin soup another go.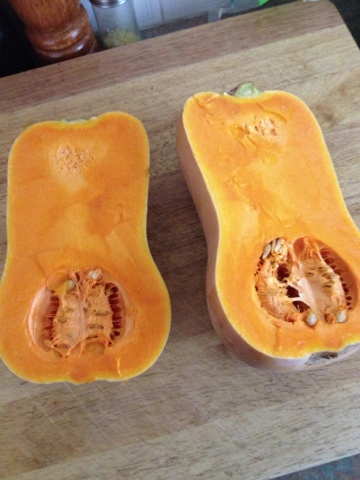 I didn't bother with peeling the skin off the pumpkin prior to baking (but you could do this) as it was a little time consuming scraping the flesh off the skin or you could even just leave the skin on. Garlic and onion accompany the pumpkin for roasting and really add to the already sweet pumpkin. My inclusion of the Cannellini Beans really made this soup lush and creamy (without any cream).
INGREDIENTS
1 Whole Butternut Pumpkin, cut into chunks
10 Garlic Cloves
1 Onion, Sliced
Olive Oil
500 ml Chicken Stock (or vegetable)
1 Can Cannellini Beans, rinsed and drained
Salt and pepper to taste
LET'S PUT IT ALTOGETHER
1. In a lined baking dish place the pumpkin, garlic and onion. Cover with a drizzling of olive oil and a sprinkle of salt and pepper. A little water in the bottom will help with the cooking process. Cover the dish with aluminium foil and bake in a 200 degree Celcius oven for 1 hour or until the pumpkin is soft.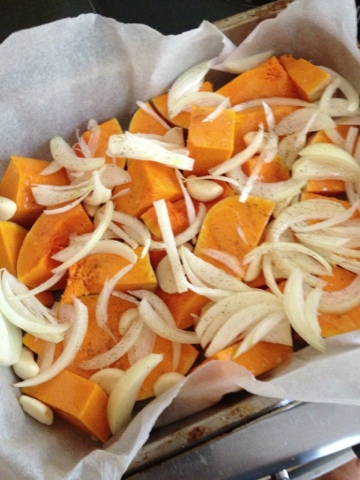 2. Once cooked, in a large pot add the stock and roasted pumpkin (skin removed if you prefer) , garlic and onion. Bring to the boil and then remove.
3. Add all but 1/2 cup of the cannellini beans. Using a stick blender process until thick smooth consistency is reached. Finally add the whole cannellini beans and stir through.
Enjoy on its own or with a crust bread roll.
Freezer Friendly: Place individual portions into ziplock bags and freeze for up to 3 months.
Great For Leftovers: Take to work and reheat in the microwave for lunch.
What Else can I Do with Pumpkin Soup: use it to make a toddler friendly risotto. Simply place one cup of soup, one cup of water and one cup of rice into the Kambrook QUATRO Cooker and cook on rice mode or do the traditional stove method.
Serves: 4-6

(Visited 1,361 times, 6 visits today)