On a Monday I finish an hour earlier from work so I have time to whip up a quick dinner.
We had leftover silverside from Sunday night in the fridge and I always have a can of some sort of beans in the cupboard.
I decided to make what I call Rainbow Rice and also a name that will entice Mr 3.
INGREDIENTS
3 cups cooked rice ( I added chicken stock powder to the water along with some juice from the pickled beetroots I had made on the weekend to give it a pink colour)
2 Cups of Leftover meat of choice
1 Can Five Bean Mix
1/2 Cup Sultanas
1 Cup Frozen Peas
1 Carrot, cut into cubes
LET'S PUT IT ALTOGETHER
1. Cook your rice. While that is cooking chop your meat of choice into bite size cubes and place in a large bowl.
2. Place the carrots and peas into a small saucepan and cook until tender.
3. Add the five bean mix to the bowl (make sure to rinse the beans in water before using), add the sultanas and mix to combine.
4. Once the rice and carrots and peas are cooked add it to the large bowl with the meat and beans. Mix well. Season with salt and pepper to taste.
This is great either hot or cold. Can be eaten as a main dish or served as a side dish if you omit the meat.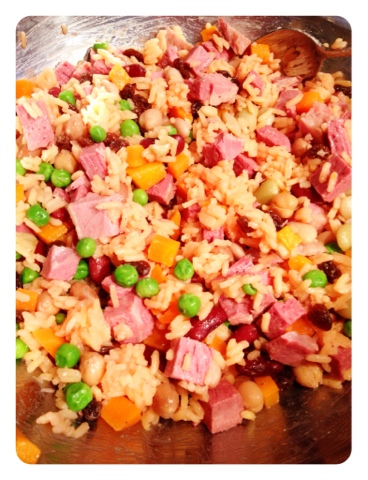 (Visited 423 times, 2 visits today)