If your looking for an easy ways to make lots of pancakes quickly and with all different types of flavours then these Pancake Bites are just what you need.
These pancake bites take a simple pancake batter, poured into a mini muffin pan, topped with your favourite toppings and then baked. Viola 24 pancake bites ready to enjoy for Sunday breakfast or pack in the lunchbox.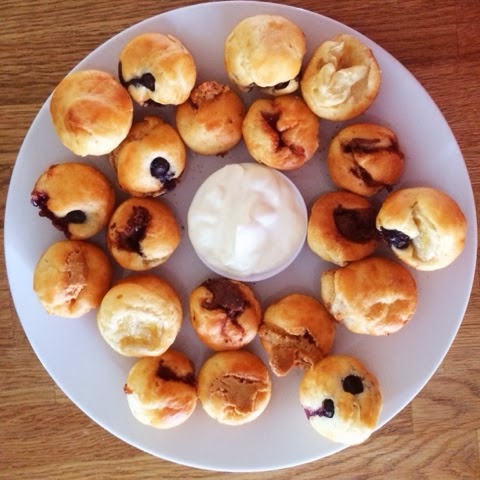 INGREDIENTS
1 Cup Self Raising Flour
1/4 Teaspoon bicarbonate soda
1 Egg
1 – 1 1/2 Cups Milk or water
Toppings such as blueberries, bananas, strawberry jam, Nutella, peanut butter.
Naturally sweet Greek Yoghurt to serve
LET'S PUT IT ALTOGETHER
1. In a medium bowl whisk together all the ingredients except the toppings and yoghurt. Whisk until well combined.
2. Pour into a greased 24 hole mini muffin tray. Place the chosen toppings into the batter.
3. Bake in a 180 degree Celsius oven for 15 minutes or until lightly golden.
Allow to cook and remove from the tray. Serve with Naturally sweet Greek Yoghurt and extra fruits. Or eat as they are.
Makes 24 mini muffin sized pancake bites.

(Visited 11,503 times, 6 visits today)