The classic simple meals are sometimes the best. Basic ingredients put together to create an enjoyable meal. This one received two thumbs up from both my 5.5 yr old and 4 yr old so you know it will be a winner with the little people in your family.
If you haven't made devilled sausages before, the flavour is somewhat tangy and sweet all at the same time. There is no heat (chilli) in it at all, although you could add some chilli powder if you like. As I do, I try to make my meals one pot meals because I hate washing up and I like things to be easy in the evening so I have added macaroni and carrots to the dish to complete it.
INGREDIENTS
1 Packet (Approx 8) Sausages – you can use pork, chicken or beef
1 Tbs Minced Garlic
2 Onions, sliced finely
1 Tbs Olive Oil
1 Apple, cored and sliced finely
1 Carrot, sliced finely
400gm Can Diced Tomatoes
1/4 Cup Tomato Sauce
1/4 Cup BBQ Sauce
1 Tbs Brown Sugar
1 Tbs White Vinegar
Uncooked Macaroni – enough to fill the 400gm tomato can 3/4 of the way up
300ml Chicken Stock
LETS PUT IT ALL TOGETHER
1. In a heavy based saucepan or crockpot that has a lid cook the sausages, garlic and onion over a medium heat with a little olive oil until the sausages are browned and the onion has softened.
2. Add the apple and carrot and cook for a further 1 minute.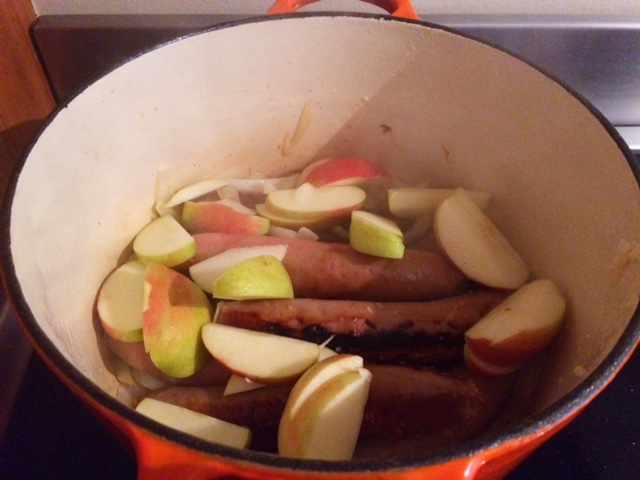 3. Pour in the diced tomatoes. Use the empty can and add the tomato and bbq sauce, brown sugar and vinegar and stir then pour in followed by the chicken stock. Mix well. Turn down to a low heat and add the uncooked macaroni. Place the lid on and allow to simmer for 15-20 minutes. Giving it a stir half way to make sure the pasta doesn't stick to the bottom of the pot.
Serves 4-6
Great for leftovers: Store in an airtight container in the fridge for up to 3 days.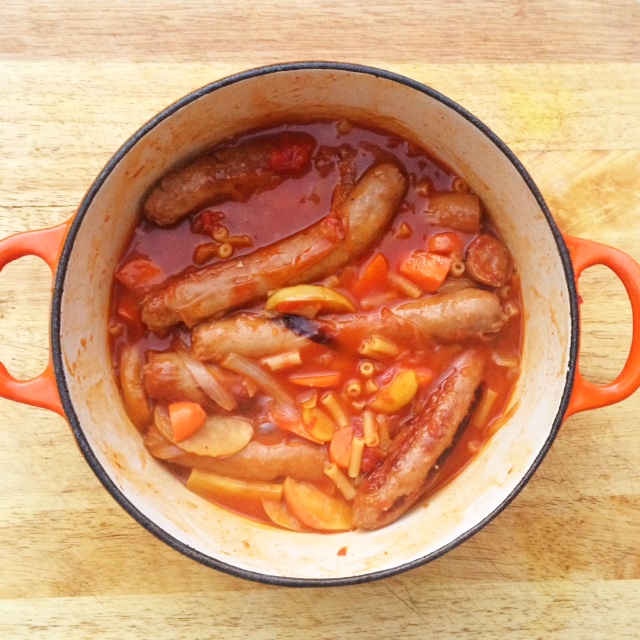 (Visited 7,309 times, 32 visits today)