On a Friday night I have extra time in the afternoon to make a dinner that is a little bit more elaborant or special.  This Friday for Friday night fakeaway I decided to try my hand at Nasi Goreng.  I love Chinese dishes and this was one I have wanted to re-create at home for a while.
The rice based dish combines three meats – chicken, bacon and prawns with spices and vegetables topped with a perfect sunny side up egg.  It is absolutely delicious and makes plenty for leftovers.
I did use a store bought Nasi Goreng paste as I wanted to get an authentic flavour.  The paste was too spicy for the kids to eat the dish, so to serve this for a family either, remove a portion before adding the paste or go with an alternative sauce mix of kecap manis and soy sauce – you won't get the same flavour but it will be child friendly.
I used my newly gifted Breville Smart Rice Box that cooked the rice perfectly and without any mess.  I normally cook my rice on the stove and battle boil overs and stuck on rice.  This made cooking rice a breeze. I'll write more about this in another post.
INGREDIENTS
2 Cups White Long Grain Rice
2 Cups Water
1 Large Chicken breasts, slice thinly
200gm D'Orsogna Streaky Bacon, diced
300gm Frozen Cooked and Peeled prawns, defrost
6 Spring Onion Eschalots, sliced thinly
1 Carrot, peeled and fine diced
1/2 Small Sugar Loaf Cabbage, shredded
2 Tbs Minced Garlic
Store bought fried shallots
Egg, to serve
Bean or Pea Shoots/Sprouts, to serve
LET'S PUT IT ALL TOGETHER
Cook the rice, either in a rice cooker or by stove top absorption method.
Place a large fry pan over a high heat.  Add the bacon and cook until crispy.  Remove the bacon from the pan. Keep the bacon the bacon fat in the pan.
Add the sliced chicken and cook until browned.  Remove from the pan.
Add the garlic, eschalots and carrot and cook until they soften.
Add the prawns and cook for a further 2 minutes or until heated through.
Return the chicken and bacon to the pan followed by the cabbage (reserve some cabbage to serve. and cook until the cabbage wilts.
Pour in the nasi goreng paste and cook stirring until the aromas are released.
Transfer everything in the frypan to the cooked rice (or a large bowl) and mix to coat the rice.
Cook the eggs just before serving.
Serve in a bowl with cabbage, pea shoots, fried shallots and the cooked egg.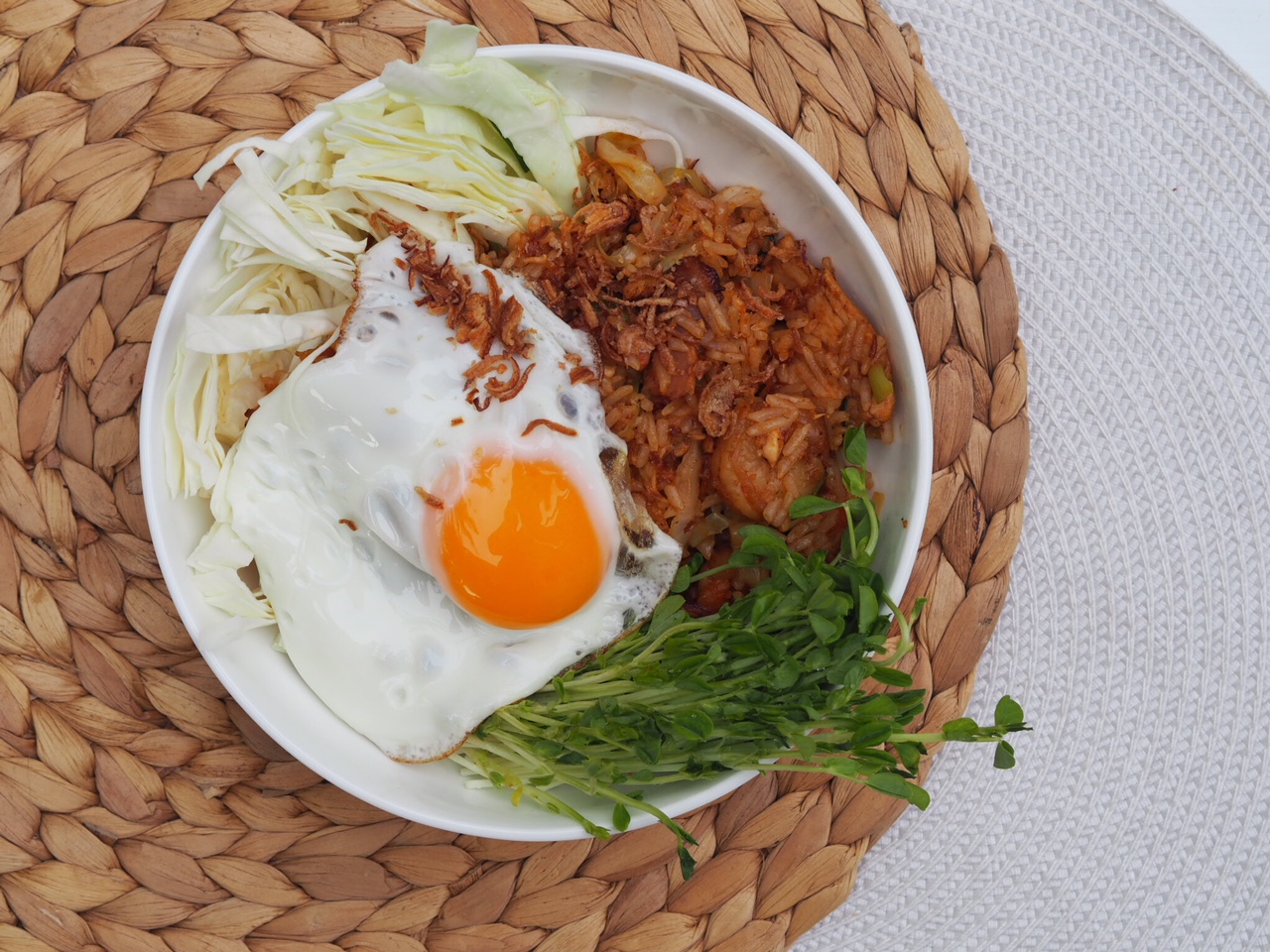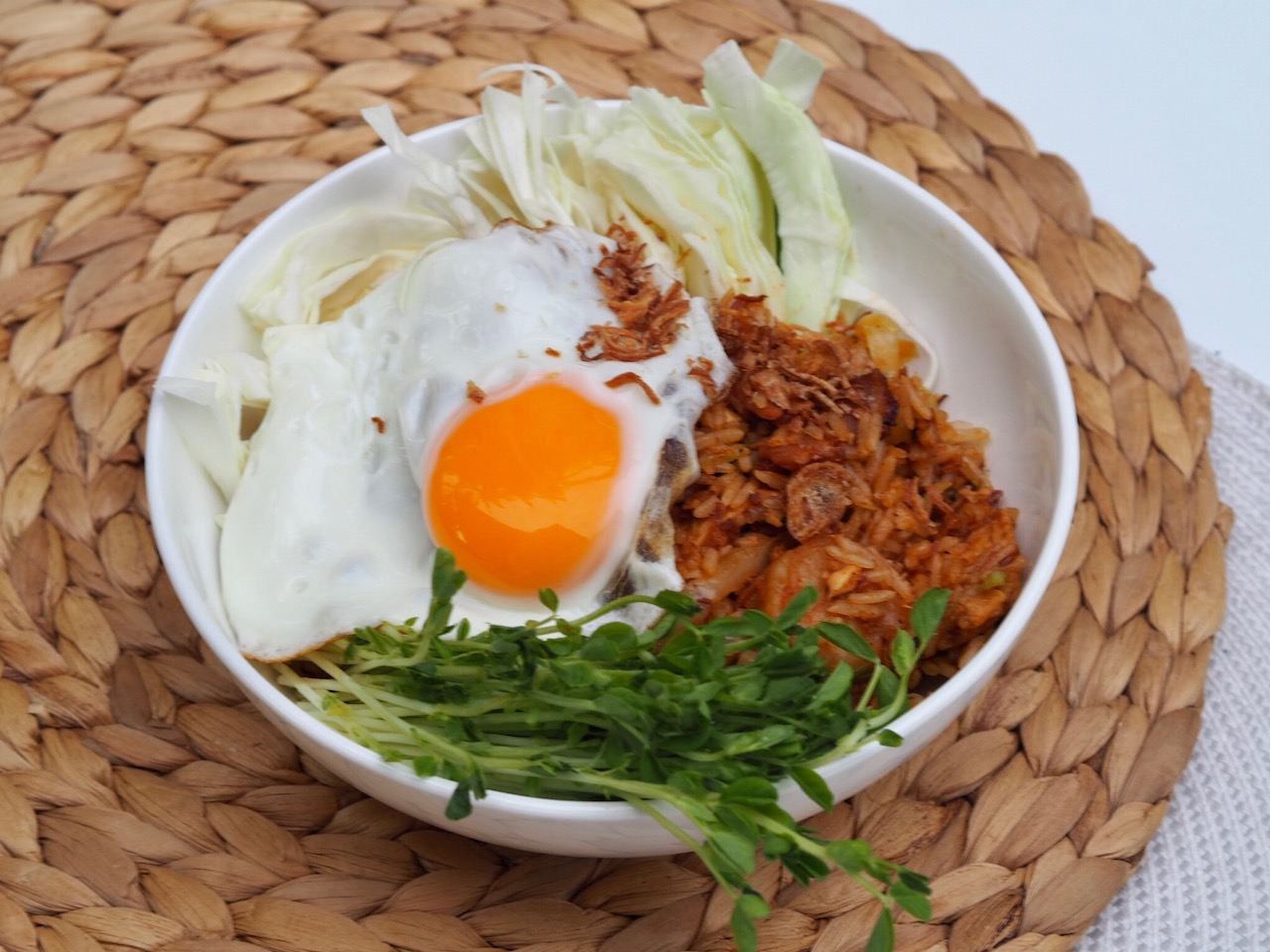 Serves 6
Great for leftovers: store leftovers in the fridge in an airtight container for up to 3 days.
Freezer friendly: place into freezer safe containers and freeze for up to 3 months.  Defrost in the fridge overnight before reheating in the microwave.
This is a sponsored post for D'Orsogna. Find more recipes like this one visit the D'Orsogna Website and D'Orsogna Facebook Page.

(Visited 2,966 times, 13 visits today)